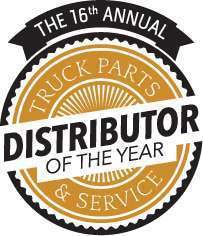 It is rare to find business owners who have given more of their time and expertise to their industry than Harman Heavy Vehicle Specialists' Jay and Ian Johnston. Through various advisory councils, trade groups and leadership initiatives, the father-son duo has spent decades working for the betterment and prosperity of the independent aftermarket.
Such willingness to give is eternally laudable. But in recent years, while also managing a comprehensive revolution within their own business, it's downright astonishing. It's a commitment that deserves acknowledgment. It deserves adulation.
It's a commitment that has helped a company dedicated to giving to receive the 2017 Truck Parts & Service Distributor of the Year award.
But Harman's climb to the top of the aftermarket is about more than just its devotion to the industry. It's a story 80 years and four generations in the making.
The company is known today as Harman Heavy Vehicle Specialists was first opened as a single-location automotive jobber by Roy Harman in 1938 as Harman Supply Company. The business started in the categories Harman knew well, like brake linings and springs, and grew over time. By the late 1940s, the company's steady growth facilitated its first of many expansions, and Roy Harman purchased an adjacent lot to build the company's earliest state-of-the-art location.
The company's growth period continued into the 1950s, allowing Roy to sell the successful business to employees Gordon Everett and Ralph Johnston when retiring in 1955. It was an ownership transition that defined the business for decades to come.
Under the new duo's leadership, Harman deepened its commitment to the transportation industry, adding product categories and machine shop services with regularity. Another growth-necessitated expansion followed in 1969, as did the introduction of Gordon and Ralph's sons, Rob and Jay, in the early 1970s.
It was also during this period the younger generation began turning its attention to the heavy-duty trucking industry.
Situated along one of Canada's busiest roadways in one of Southern Ontario's fastest-growing communities, the then-named Harman Automotive Supply was seeing an increasing number of commercial carriers among its overall customer base. Working throughout the business in their early years, Rob Everett and Jay Johnston watched this growth carefully, and, in 1983, when it was their turn to take over the operation, plunged into the commercial trucking aftermarket almost immediately.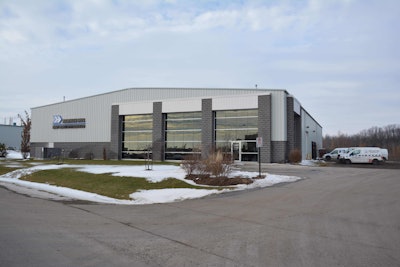 "We saw an opportunity where we could really succeed in this marketplace," said Jay Johnston in 2015 after Harman earned its first Distributor of the Year nomination.
Changing the company's name again — this time to Harman Heavy Vehicle Specialists — Everett and Johnston began overhauling their inventory and training their employees on their new area of specialization.
It was around this time they also started getting involved in the industry at large, with Jay eventually holding board positions with the Heavy Duty Distributor Council of Canada (now Heavy Duty Aftermarket Canada), the Council of Fleet Specialists (CFS) and its successor the Commercial Vehicle Solutions Network (CVSN). Ian has followed in his father's path, leading HDAC and GenNext while scheduled to serve as co-chair at Heavy Duty Aftermarket Week (HDAW) next year.
Ian says this industry involvement has been paramount to the success of Harman HVS within the aftermarket. In the early years, Jay's involvement helped Harman HVS better assimilate and establish itself within the industry. In the years since, he and Ian's activity has continued to benefit the business but also has allowed Harman's leadership to share its knowledge with its contemporaries and support the industry at large.
"We have always cared deeply about this industry and wanted it to succeed, and we believe a strong industry is going to help all of us within the industry," Ian says.
Yet Harman's heavy-duty aftermarket success has relied on more than industry involvement. Assertive leadership from the Johnston and Everett families has been a touchstone of the business for more than 60 years. The Harman executive team doesn't shy away from a challenge. Opportunities for improvement are always thoroughly evaluated, and threats facing the business and the independent distribution channel are tackled head-on.
One area where Harman's proactive problem-solving is most evident is in its leading-edge approach to technology. For decades, Harman HVS has been at the forefront in the independent aftermarket in adopting computer technology to better run its business and serve its customers.
"We became computerized when 90 percent of my peers didn't know what a computer was," Jay Johnston says. "We saw the benefits for our business and our customers."
Harman also was one of the aftermarket's earliest adopters of Vendor Managed Inventory (VMI) for its warehouse, and recently committed to a customer relationship management (CRM) platform for its sales team.
Ian Johnston says the investments have provided "huge" behind-the-scenes advantages for Harman's workforce, which thanks to the company's pro-tech approach, quickly took to the new resources.
"Our guys embrace technology when it gives them an advantage," he says. "When it enables them to do something differently and be more productive, they're keen to use it."
Such employee engagement cannot be overlooked. After the Johnstons bought out the Everett family for sole ownership of the business in 2014 they instituted an expansive corporate renaissance plan. Each Harman facility was extensively renovated or rebuilt, long-time operating procedures were scrapped or rewritten and the company's marketing strategy was overhauled to better align with an evolving customer base.
Looking back on the daunting project, Ian Johnston heaps praise on Harman's entire team for making the undertaking successful.
"We've had such phenomenal buy in from our employees," he says. "It's really amazing. We have such a solid core of employees and they've really taken to everything we were doing."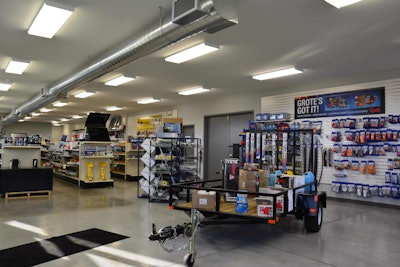 Though admittedly, Johnston says it helps that what they were doing was geared toward improving customer experiences. Harman's value proposition is great quality service and is reinforced through in-person and online training courses that incentivize and encourage employees to learn.
Johnston says the result is a workforce that takes great pride in its status as solutions providers, and experts who customers can rely on.
"We believe we've always offered a superior buying experience for our customers. That's always been one thing that's separated us from our competitors," he says.
To their credit, those same competitors and colleagues have been quick to point out Harman's impressive work. A wave of industry support helped the distributor earn consecutive Distributor of the Year nominations in 2015, 2016 and 2017.
"When you list the requirements to become Distributor of the Year – customer service, industry involvement, relationships with suppliers, product knowledge, growth and expansion success, technology adaptation and business innovations – Harman fits them all," says one industry representative who nominated Harman for the award.
"[Ian and Jay Johnston] run a very professional business, and understand the market better than most," adds another supporter. "A more deserving company I cannot think of."