The following comes from the February 2018 issue of Truck Parts & Service. To read a digital version of the magazine, please click the image below.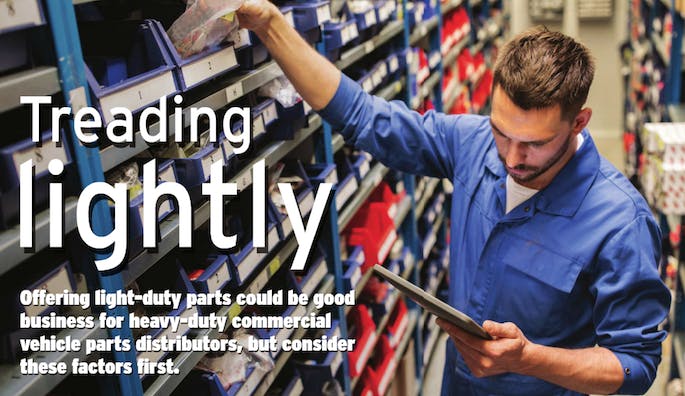 To supply or not to supply? That's the question distributors of heavy-duty commercial vehicle parts might be asking themselves regarding whether to expand their inventories and service to meet the light-duty needs of new and existing customers.
The lucrative potential of the medium-duty marketplace has been covered in Truck Parts & Service before, and the same might be said for addressing light-duty needs for customers with a mixed fleet. Being the go-to source for their light-duty needs can improve customer loyalty and incremental sales for distributors, and provide convenience for customers by saving them from having to go elsewhere for light-duty parts.
However, the decision to serve customers that own light-duty trucks should not be taken, well, lightly. Distributors already doing it say there are several aspects of the business to consider before taking the plunge.
"I do see more companies trying to do both and it requires a real commitment because, although there are many similar products and similar issues, the business is still very different as we compare light duty to heavy duty," says Corey Bartlett, president and CEO, St. Cloud, Minn.-based Automotive Parts Headquarters Inc. APH has experience in providing light- and heavy-duty truck parts — it began offering light-duty parts since it opened its doors in 1920 and began offering heavy-duty truck parts five years ago.
Parts, parts and more parts
With experience throughout the truck parts businesses, APH is in a good position to compare providing the different parts to its customers, which mainly are fleets, repair shops and the agriculture business. Bartlett says the inventory needed is "significantly more challenging" in the light-duty space.
A heavy-duty part might fit a vehicle for years, with the lifecycle of a heavy-duty SKU sometimes lasting more than a decade. Such is not the case with light-duty vehicles, which can change mid-year, according to Bartlett.
"The inventory required to be able to say yes [to a customer] is significantly greater for light vehicles," he says, adding that his light- and heavy-duty suppliers have been "tremendously supportive."
David Willis, president and CEO, Baltimore-based CRW Parts Inc., agrees commercial vehicle parts distributors will need to vastly increase their inventories. "You really have to carry a large flavoring of whatever it is you're stocking," he says.
CRW has offered automotive parts, which includes those for light-duty trucks, since the company was founded in 1962. The inventory of the company's light- and heavy-duty parts is split 50-50, and it serves fleets, exhaust shops, tire dealers, installers, automotive jobbers and miscellaneous industrial accounts in the Mid-Atlantic states.
"[Light-duty] parts are a lot smaller, but you still need a lot of product sitting on your shelves," Willis says. Because of the inventory requirements, CRW has limited its product offerings to common wear components, such as brake parts and filters.
The company also stocks exhaust parts and it's the biggest category for the company. However, Willis cautions parts distributors on the category because of the sheer amount of product that has to be in stock. "But, we've been doing it for a long time, so it's easy for us," he adds.
Willis, like Bartlett, doesn't have an issue acquiring parts. Most suppliers do both light and heavy duty, he says.
Midwest Wheel Companies has been around for more than 100 years, and it has been offering light-duty parts for the last 15 years.
The Des Moines, Iowa-based company's light-duty inventory includes lighting, filtration, batteries and accessories, such as hitches and other commercial-type aftermarket products.
Midwest Wheel Companies first stocked product based on customer requests, such as filtration and batteries, and further evolved its inventory by identifying parts its customers might want, according to John Minor, CEO and president. For example, a large construction customer the company sells heavy-duty parts to might own 30 to 40 pickup trucks. Those trucks are used off road a lot, so the company stocks grille guards and other off-road accessories.
Not only did Midwest Wheel Companies base its inventory on what customers had requested and what the company thought it could reliably provide, it has also accounted for what it felt other providers weren't doing well. For example, the company began stocking heavy-duty tool boxes, while others were selling off-the-shelf discount tool boxes, according to Minor.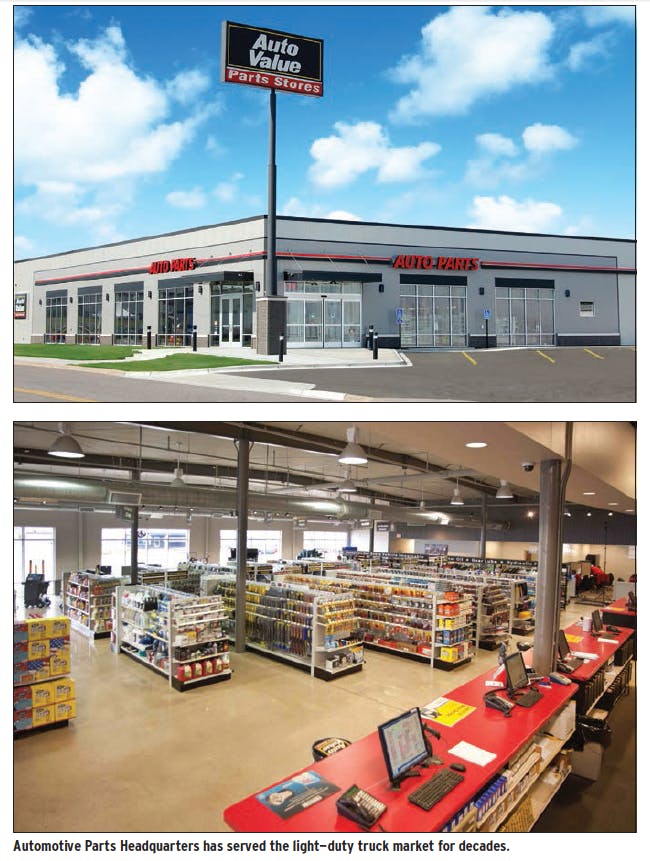 "We identify needs in the market and provide solutions," Minor says. "Most of our suppliers [stock for] all truck classifications, so it's relatively easy to get product."
The need for speed
As commercial vehicle parts distributors currently supplying heavy-duty parts consider the inventory requirements of offering parts for light-duty trucks, they must also consider how quickly they can get those parts stocked in stores or directly into customers' hands. The light-duty business is a "I need it yesterday" game, according to industry experts.
"A fleet owner understands that maybe heavy-duty delivery doesn't happen within an hour but his expectation very much is that for light-duty parts because that's what all the light-duty players will do," Bartlett says, adding that commercial distributors are competing with national chains that also offer quick delivery.
Minor also knows Midwest Wheel Companies is competing with other light-duty truck parts providers, including the national ones. The company delivers parts every day to its customers that are within a 50-mile radius of its six locations, which serve parts of Illinois, Kansas, Minnesota, Missouri, Nebraska, Wisconsin and all of Iowa.
"We offer fast delivery on all our products, including heavy duty," Minor says. "You have to be that way."
Unless a customer is near one of CRW's branches, it won't deliver parts. However, if one of its locations doesn't stock a part, Willis says they will go to a competitor to get the part in-store. Customers might have to pay a little extra, but paying more is worth it compared with having a truck down for the day.
Also, stocking a part or getting it in the store quickly improves loyalty with customers because "most fleets and heavy-duty people like to deal with distributors that know what they're doing and can solve their needs," Willis says.
Using technology
While the increased inventory might seem daunting, there are ways, including software, to help commercial vehicle parts distributors stock the right parts. The stocking systems can be as simple or complex as distributors want them to be.
For Minor and Midwest Wheel Companies, determining what to stock is about developing relationships with customers to understand their needs. "If you do your job right, you're going to find out what their usage is," he says. After that, it's a matter of setting up the computer system to automatically restock the parts.
For parts distributors embarking on offering light-duty truck parts, there are several dealer management systems (DMS) available to assist them, according to Mike Nicholes, founder and owner of Post Falls, Idaho-based Mike Nicholes Capital Management, which trains parts managers and business owners inventory control techniques to help them be competitive.
One of the most important features of an inventory management system for companies new to the light-duty category is the ability to determine a demand pattern over a period of time — a year, for example — by measuring sales made to customers as well as when a part was in demand but didn't result in a sale, Nicholes says. That overall demand, regardless of whether a sale was made, is totaled and, if a distributor has three to five demands for a part within that period of time, then they ought to be stocking that part, and the DMS will begin automatically reordering the parts in the right quantities. The system determines whether a distributor should stock the part or rely on a supplier, thus avoiding a slow-selling part from taking up valuable shelf real estate, he adds.
Another option for commercial vehicle parts distributors is to develop a database in-house, like APH did. The company's award-winning inventory management process uses its "CounterLogic" database, which houses more than a million parts. The information the database uses includes vehicles in operation (VIO) data, sales history, market data, part failure rates, customer and store feedback and the company's 98 years of experience, according to Bartlett.
APH received the Polk Inventory Efficiency Award, which recognizes outstanding aftermarket companies for process improvements relative to inventory and supply chain efficiency.
Regardless of how intricate the system is for determining the correct inventory to have on hand, the weak link in the entire process is the people answering the phones or standing at the counter, and their willingness to log a lost sale, according to Nicholes.
"Too often a lost sale is looked at as a negative indicator of performance, but it's just the opposite," he says. "Parts managers and counter staff who track enough lost sales should at some point be saying, 'Wait a minute. Maybe I better start stocking this.' If they don't post those lost sales, they're losing the picture of what's happening."
Nicholes adds the parts manager "occupies a really tricky place in figuring out what to stock." Managers rely on intuition until they get a computer system that provides them data. More data better indicates inventory needs. "The more people understand this is a learned skill, the better everybody is."