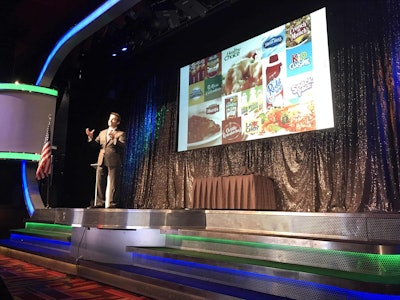 Josh Linkner knows a thing or two about thinking outside the box and, during his keynote address Tuesday at the Heavy Duty Aftermarket Week (HDAW) in Las Vegas, "Everyday Innovation: Fueling People, Partners and Profits," he invited attendees to do just that with their businesses.
"The word innovation is kind of overwhelming, isn't it? We hear words 'innovation' and 'transformation' and say, 'gosh maybe that doesn't apply to us,'" he says. "But today we're going to look at how we can inject innovation directly into your daily work in order to meet the challenges of the day."
Linkner says many attendees' companies might currently be enjoying some great success, but he cautions them about getting complacent. Instead they should be using their success as a platform for continued innovation, so they continue to be the disruptors rather than the disrupted.
"It's incumbent on us as leaders in our industry to ensure that we continue to push the boundaries, to make sure we're continuing to innovate a new path forward rather than clinging to the old [path]," Linkner says.
To that end, he provides the five core mindsets of innovators.
The first is that every barrier can be penetrated. "Innovators don't get overwhelmed by obstacles. They don't throw their hands up in defeat when they see a tough challenge," says Linkner. "Rather, they don't waste a single ounce of energy on anything but solving the problem at hand. They believe there's got to be a solution even to the most pressing challenges."
To help solve problems and overcome barriers, he suggests asking three questions: Why? What if? Why not? "When you ask these questions, it forces you to challenge conventional wisdom. It forces you to think what can be instead of what is," he says.
The second core mindset is called Video Killed the Radio Star, a nod to the 1979 song and its video that was the first to air on MTV. "The principle here is that we can't simply cling to the models of the past. We need to disrupt. We need to challenge our core assumptions and traditions," Linkner says. "We need to look for ways to elevate our game in the new era instead of doing things the way we've always done them in the past."
This core mindset is "about finding new territories to compete. Looking for completely different approaches, rather than clinging to the previous ones. To have the willingness to let go of 'what was' in favor of 'what can be,'" he says.
The third core mindset is: Change the rules to get the jewels.
"If we compete on the same playing field as everybody else, we're likely to see the same results. But sometimes if we inject change … it makes all the difference in the world. I'm saying we can change various factors – it could be constraints, money, time, people, [location]," Linkner says, adding that If you "change things up," it may open new possibilities.
The fourth core mindset: Seeking the unexpected. "If we challenge ourselves and our teams to dig deep for that creative, unexpected solution, we end up uncovering a far better outcome," he says. He refers to this technique as Option X.
When facing an opportunity, most will, for example, consider choices A, B or C, and pick the best of the three. Linkner says to "pause to ask more questions; pause to consider more possibilities. Is there an Option D? An Option E? Is there an Option X – that unorthodox approach that carries the day?"
The final core mindset of innovators is: Fall seven times to stand up eight. "It's about grit, tenacity and resilience. It's realizing that the most innovative people rely on internal resources, not external ones," Linkner says. "What matters is the courage you have inside. The willingness to fight back. The willingness to continue to persist, to pursue the most pressing opportunities at hand."
He adds that "mistakes are not fatal. Mistakes are the pathway to discovery. Apply creativity and innovation to the daily things. And, if it doesn't work the first time, you have to keep at it."
Linkner closed his presentation by challenging attendees to, in the next seven days, try to come up with one idea for creative disruption.
"You don't have to fund it or execute it. Just think about it," he says. "Ideas are contagious, one idea becomes six ideas, which then become 11 ideas. This new creative vibe will spill over to your colleagues, your partners and even your customers. You will create momentum and that momentum becomes unstoppable."
Linkner says the aftermarket industry is experiencing unprecedented times. "The stakes have never been higher. The threats have never been bigger, the competition has never been more fierce," he says. "But I really believe opportunity has never been more profound. So, let's seize it. Let's make today our jumping-off point."