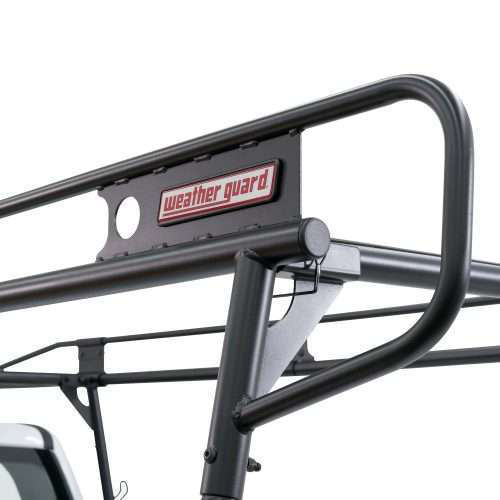 Weather Guard introduced two new products this week, its Truck Rack and interior van mounting kits.
The former features a universal design that uses clamps, stake pockets and front leg adjustments to accommodate any full-size truck bed and includes a drag-reducing airfoil that helps eliminate excessive noise. Weather Guard says the steel rack enhances tiedown capabilities with four large top and bottom hoops built for securing loads up to 1,000 lb.; the tie points are spaced from front to rear for taller loads.
The three-component system also includes a cab protector screen and a crossmember bar and is compatible with the company's truck boxes. It is made of a matte-black powdercoat finish and is engineered for a one-hour no-drill installation process, the company says.
Additionally, Weather Guard says its mounting kits for compact and full-size vans are designed with several durability features to help protect against sudden movement during travel. A four-way stop design combines mounting straps with steel brackets to help limit side-to-side and front-to-back motion. An easier installation process and flexible shelving options help users customize the mount to fit their needs more easily.
The company says there are no floor rails, which keeps the under-area free for additional storage of wide or bulky items, and pre-existing holes and shelves are engineered to lock in place anywhere along the rail using the company's proprietary twist plate. The mounting kits include extruded aluminum upper rails, powder-coated steel mounting plates and hardware for two shelf units for both the driver and passenger side, the company adds.