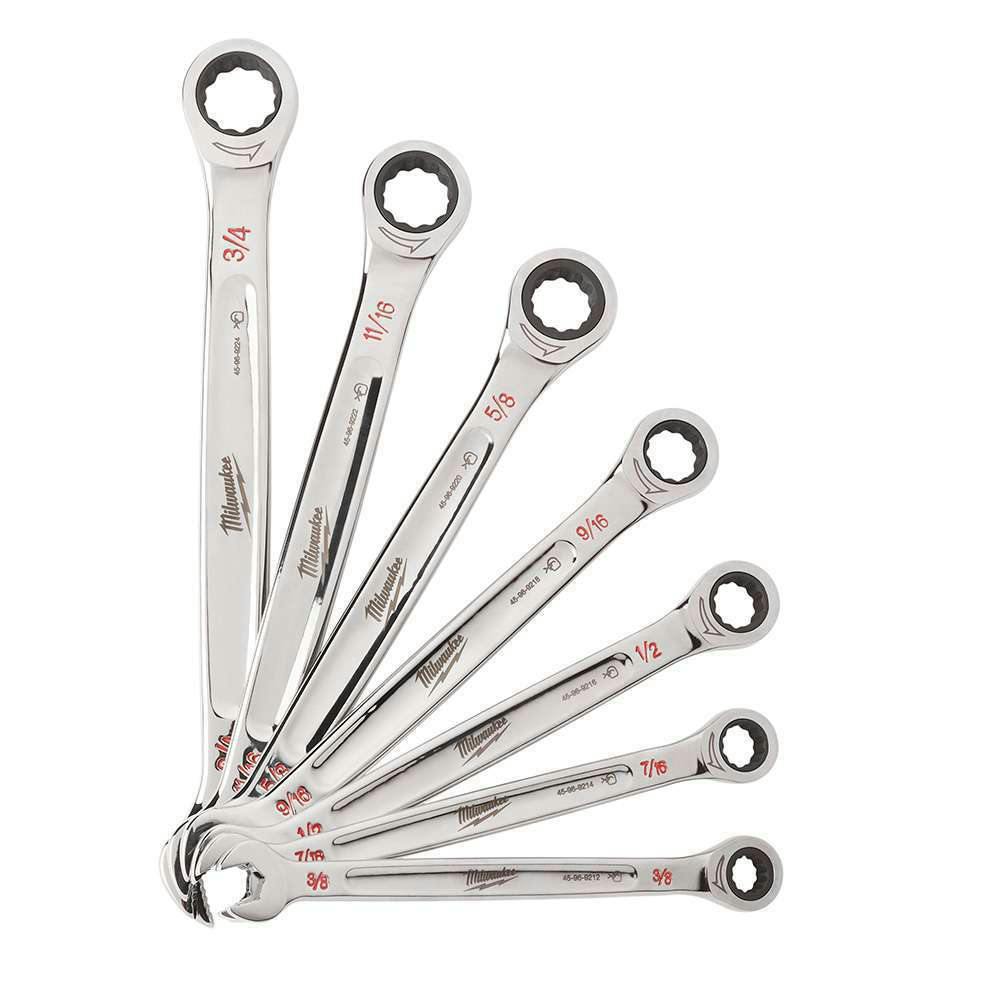 Milwaukee Tool announced it has delivered innovation to a core category of tools aimed at the professional trades with the introduction of 7-piece and 15-piece ratcheting combination wrench sets. These new wrenches offer a 2.5-degree arc swing, 144 ratcheting positions, an anti-slip Max Bite open-ended grip, as well as an I-beam handle design so users can comfortably apply leverage.
With 2.5-degree of arc swing, the wrenches enable users to work quickly and efficiently in tight spaces. Each wrench has been engineered with durable double-stacked pawls within the ratcheting mechanism to ensure the longest ratchet life and 144 ratcheting positions for improved speed and accessibility.
The Max Bite open-ended grip features a geometry that improves the wrench's grip on nuts and bolts, providing up to 25 percent more torque than smooth open-ended wrenches. This geometry also reduces the pressure from corners of bolts to help prevent fastener rounding and stripping.
To alleviate the frustration caused by competitive wrenches with flat and thin frames that dig into users' hands, the new Milwaukee ratcheting combination wrenches are designed with an I-beam handle for superior user comfort, even while applying high torque, according to the company.
Because wrench sizes often can be hard to see on chrome, size labels on each of the wrenches are ink-filled for easy identification and readability from multiple angles. These ink-filled labels are also different colors to differentiate SAE and metric sets (red for SAE and black for metric). For further utility, the 7-piece set comes in a portable, locking storage tray for better organization on and off the jobsite. The 15-piece set comes in a storage tray that's designed for long-term storage and fits into any of Milwaukee's popular steel storage units.
Available in April 2018 in both SAE and Metric, the 15-piece and 7-piece ratcheting combination wrench sets confirm Milwaukee's unrelenting commitment to providing solutions that solve key user frustrations, while increasing jobsite productivity, the company says. Milwaukee offers a lifetime guarantee on all ratcheting combination wrench sets.
Combination Wrenches Set Offerings:
48-22-9406 – 7-piece Ratcheting Combination Wrench Set (SAE): 3/8 in., 7/16 in., 1/2 in., 9/16 in., 5/8 in., 11/16 in., 3/4 in., and storage rack. ($129.99)
48-22-9506 – 7-piece Ratcheting Combination Wrench Set (metric): 8mm, 10mm, 12mm, 13mm, 14mm, 15mm, 17mm, and storage rack. ($129.99)
48-22-9416 – 15-piece Ratcheting Combination Wrench Set (SAE): 1/4 in., 9/32 in., 5/16 in., 11/32 in., 3/8 in., 7/16 in., 1/2 in., 9/16 in., 5/8 in., 11/16 in., 3/4 in., 13/16 in., 7/8 in., 15/16 in., 1 in., and storage rack. ($249.99)
48-22-9516 – 15-piece Ratcheting Combination Wrench Set (metric): 8mm, 9mm, 10mm, 11mm, 12mm, 13mm, 14mm, 15mm, 16mm, 17mm, 18mm, 19mm, 20mm, 21mm, 22mm, and storage rack. ($249.99)