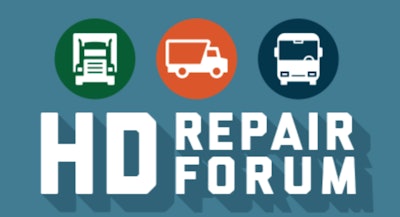 Members of the aftermarket community addressed some issues associated with parts sourcing during a panel discussion held this week at the HD Repair Forum in Fort Worth, Texas. As in previous discussions, better communication was a buzz word.
"One of the biggest challenges when you're writing an estimate are the schematics you get to see what the parts look like. There's no part number attached, and the schematics don't always match what you're looking at, so we spend a lot of time guessing at what we need for parts," says Mark Polzin, president, Budget Truck & Auto. Access to images of what parts look like when ordering would improve the situation, he adds.
Another issue Polzin mentioned is when a repair shop submits a list of the parts it needs. When the parts arrive, there could be 14 items all listed as "brackets." Polzin says, "It's confusing for the tech on the floor [after you referred to a part one way] but it comes back as a 'bracket.' If there's more clarity … it would be much better."
Lauro Perez, Navistar procurement director, agrees schematics and lack of data available on a part can be problematic, especially for trucks, for example, that are still in operation 15 years after their production cycle. In addition, from a sourcing standpoint, the needed components can be difficult to find, which extends lead times. In these scenarios, "I think there is an opportunity for better communication" among all the parties involved.
Darin Engert, heavy truck national sales manager, LKQ Corporation, agrees with the panel regarding the importance of communication, such as providing more information and photos on parts. Communication would also alleviate what might get lost in the vernacular – "One person's 'bracket' is another person's 'widget,'" he says.
Referring to the older trucks that need servicing, Engert says a used part it provides will have a little wear and tear on it, but his company will inform the customer about it.
"We want to be as forthright as possible, making sure we give you as much information as possible for when you're making your decision. Also, we'll make sure you have an aftermarket option as well," Engert says, adding that LKQ Corporation will follow up with the repair shop.
Restocking fees were also addressed and Engert says it's something his company takes personally, and not treated as, "Oh, here's another part coming back." Engert says he wants to know why it's coming back.
"Was it a communication error on our part?" he says. "Someone could say, 'Well the customer got it wrong.' For me, I don't care what the customer tells you, we have to make sure it's right. It's not about [collecting a] restocking fee, it's we dissatisfied somebody and that's going to affect future business."
Ultimately, everyone has the same goals, according to Polzin.
"We're all in this to take care of the customer, give them a quality product and make some money. It' doesn't matter if you're a body shop, a parts supplier or an insurer," he says. "So, at the end of the day, let's all get along, communicate and work together because we all want the customer back."