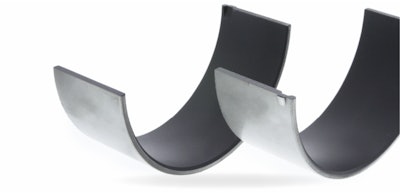 PAI Industries introduces its all new high-performance engine bearings.
At the heart of the new bearings is the new HP-780 material, which PAI says provides 15 times higher load capacity, a longer life and an improved fatigue resistance over standard bearing material. PAI adds the latest addition of the HP-780 coating lowers friction to one-third of the original value, thus preventing abrasive wear.
After a standardized test, the company says it was found that the load carrying capacity of the bearings had increased from 10,000 PSI to 152,000 PSI. In addition to this major improvement, the company says the bearing also assist in providing better lubrication, corrosion protection and fuel economy.
"Engineered to withstand the extreme conditions of high performance, heavily loaded engines, PAI's High Performance Bearings are guaranteed to improve the engines life and increase performance," the company says.
The bearings come with a three-year warranty.