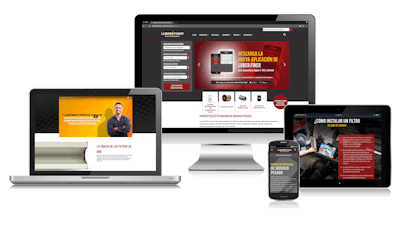 Luber-finer has announced that its website and online educational tool, Luber-finer University, are available in Spanish to better serve minority members of the heavy-duty industry in the United States and around the world.
Hispanic drivers, technicians, fleet maintenance managers and parts distributors can now view Spanish versions of the Luber-finer website at luberfiner.com/spanish and Luber-finer University at luberfiner.com/spanish/university.php.
These translations make it easier for those who speak Spanish to access the heavy-duty filter information they need to keep their operations moving and increase their collective filtration knowledge in an ever-changing industry:
According to the National Minority Trucking Association (NMTA), Hispanics own 44 percent of the 458,729 minority-owned transportation companies in America. Of the 3.5 million truck drivers in the U.S., 12.6 percent of them are Hispanic.
The NMTA recently launched an initiative to create 500,000 transportation jobs for minorities by 2025.
The Coalition of American-Latino Truckers (CALT) recommends that a company's corporate website should at least include Spanish sections.
"The NMTA's numbers indicate a clear need for more Spanish resources in the heavy-duty industry," says Layne Gobrogge, director of heavy-duty marketing. "We took the CALT recommendation and went further, offering the entirety of our website and Luber-finer University in Spanish."
By eliminating the digital language barrier, Luber-finer's translated sites offer Spanish-speaking visitors seamless access to these advantages and more:
Online Parts Catalog: Search the parts catalog to find the part number and specification details for any Luber-finer lube/oil, fuel/water, air, hydraulic, coolant or cabin air filter.
Cross Reference: Type the part number of another brand's filtration product into the cross-reference tool to obtain a part number and part description for a comparable Luber-finer filter.
Filtration Knowledge: Enroll in Luber-finer University, an engaging, interactive and free training program specifically developed to provide technical knowledge and insights about heavy duty filtration.