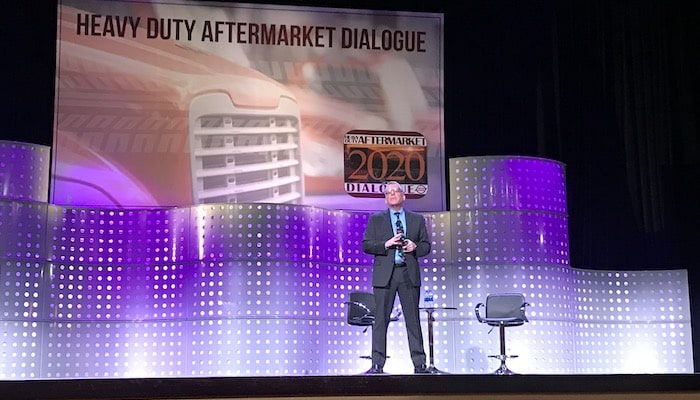 MacKay & Company and the Heavy Duty Manufacturers Association (HDMA) have released more information about next year's virtual Heavy Duty Aftermarket Dialogue, set for Jan. 25, 2021.
During the upcoming event, MacKay & Company will present a session on the Aftermarket Industry Economy & Outlook. The session will feature MacKay & Company's John Blodgett, vice president, sales and marketing, and Dr. Bob Dieli, economist.
Together the duo will provide a trucking economy update and outlook and aftermarket forecast specifically geared towards supplier manufacturers. MacKay & Company says topics will include:
Aftermarket demand forecast for Class 6-8 in the United States, Canada, and Mexico
Retail sales forecast for United States, Canada, and Mexico
Trucking activity, including the Truckable Economic Activity (TEA) report and enhanced aggregate spread
The Aftermarket Index for the United States, Canada, and Mexico for both OE and independent channels
Truck dealers and independent distributors parts sales performance
Overall industry parts pricing forecast
Latest medium-, heavy-duty, and trailer fleet utilization
HD Aftermarket Dialogue will immediately precede the fully virtual Heavy Duty Aftermarket Week (HDAW) from Jan. 25-28, 2021. HD Aftermarket Dialogue is designed to bring together thought leaders from all segments of the aftermarket who can share applied knowledge on the state of the marketplace and what steps are necessary to be sustainable and prosperous as the industry evolves.
Organizers say the conference delivers this critical information by identifying the toughest emerging problems in the heavy-duty aftermarket industry, as well as sharing the most successful strategies being implemented to counter them.
In light of the COVID-19 pandemic, HDAD's virtual schedule will include feature presentations and panel discussions with industry experts on topics including:
A real-world view of pandemic strategies, successes and failures, and looking towards what's next
What to expect of the 2021 DC administration
Macro-economic trends that will impact the industry
The fleet perspective on changes in the aftermarket and lasting lessons from the pandemic
Technology changes forced into the distribution chain by the pandemic and what will stick
Other speakers currently scheduled will include:
Al Dragone – CEO, FleetPride
Kent Jones – president, Americas, SAF-HOLLAND Inc.
Wayne McKitrick – vice president, Sales, N.A. Williams Company
Gerry Mead – executive vice president, Maintenance & Equipment, Hub Group
Chris Patterson – Independent Director
Mari Roberts – senior director, Transportation, Frito-Lay
Tyler Robertson – founder and CEO, Diesel Laptops
Jeffrey Rosensweig – director, John Robson Program in Business, Public Policy, and Government, Goizueta Business School of Emory University
Amanda Schuier – senior vice president, Quality Transport Co.
Ann Wilson – senior vice president, Government Affairs, MEMA
For more information, and to register and take advantage of early-bird discounted rates, please CLICK HERE.