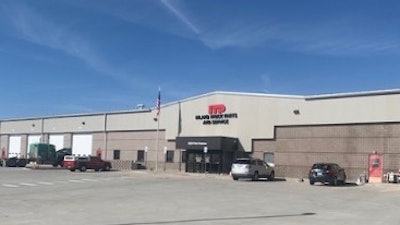 Inland Truck Parts & Service recently completed the construction of its new facility in Greeley, Colo., combining parts, remanufacturing, driveline, component shop services and full-service truck repair into a single 39,000 sq.-ft. facility.
The facility is located at 2825 1st Avenue in Greeley and features 14 drive through service bays.
Inland Truck Parts says it sees new facilities as dual purpose, providing modern work environments to their employee-owner workforce, and bringing together their primary offerings to the heavy-duty aftermarket under one roof, allowing customers a one stop shop approach for their many needs, including coverage of all makes and models.
"Greeley is an amazing town with a tremendous amount of opportunity," says Ray Post, general manager. "In this new facility we expect to deliver a great experience for our customers."
"This new facility has the capacity to handle even more service work and the potential to attract talented service technicians. Once you step inside the new shop, you'll see the difference we hope to bring to our techs and to our customers," adds Brendon Baker, service manager.
[RELATED: TruckPro acquires Young's Gear Denali Drivelines]
The company adds its buildings are specific for the heavy-duty business with years of experience incorporated into the design. Equipment like overhead cranes, dynamometers, and hydraulic presses are deliberately integrated into the workflow. The results are efficient layouts for employee-owners and customers alike, the company says.
The service shop is designed with state-of-the-art fluid transfer, shop ventilation, vehicle lifts, and LED lighting systems. The component shop brings Inland Truck Parts' typical offerings of in-house remanufacturing or custom unit repairs and a dedicated driveline shop. The company says both shops are fitted with the latest equipment, including a wide range of diagnostic and testing capabilities that assure the problem is identified accurately and the solution to that problem provides the customer a lasting repair that keeps their vehicle in service.