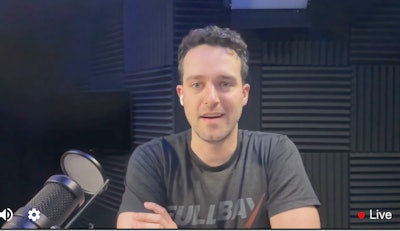 Creating a strong online presence and an effective digital marketing campaign for your heavy-duty repair shop can help increase business — if done correctly.
Topics of "Digital Marketing for Independent Repair Shops" included creating an effective Google Business profile, running an effective digital ad campaign and partnering with the right marketing partner. The Wednesday's session was part of the Virtual Diesel Expo held May 17-19 and hosted by Diesel Laptops and Alliant Power.
"The three elements that have to be in every marketing plan for a local service business like a diesel repair shop are an optimized Google Business profile, a modern mobile-friendly website and an optimized and managed digital advertising campaign," said Nick Adams, managing director, Dieselmatic, a digital marketing agency for heavy-duty truck repair shops.
First and foremost, a business needs an optimized Google Business profile, which is what customers find when they search key phrases such as "truck repair shop near me" or "wheel alignment near me."
When filling out a Google Business profile, Adams urged shop owners to fill in as much information as possible regarding the services they provide and to add photos of the establishment, including employees working on trucks and, especially, the front entrance.
"[The photos] help establish trust with customers before they actually come to your shop," Adams said. "Having a photo in your Google business profile of the entrance of your shop clearly articulates to customers where you're located and how to get there. Then they're confident they can click Drive on Google Maps and know exactly where they're going — they don't have to wander around some industrial park and try to find where you are."
Adams said a shop's Google Business profile is like a newspaper boy on the corner shouting about your business. "If you don't tell him what to shout, then he's not going to find the right customers. Everything you put in there is going to tell Google these are the services you offer," he says.
[RELATED: Fullbay acquires Dieselmatic Digital]
Another important aspect of digital marketing for repair shops is ensuring their website is mobile friendly. Citing the report by Fullbay and the ATA's Technology & Maintenance Council, 2022 State of Heavy-Duty Repair, 63 percent of shops have a website, 28 percent don't have an online presence and 9 percent have a website but it's out of date.
"It is imperative within our industry that your website is very easy to navigate and operates on a mobile device. Most customers will be searching from a phone, especially if you're offering emergency roadside service. The navigation you have within your website is extremely important," Adams said.
Shops also need to be sure the services they offer are clearly communicated and the shop's phone number is listed throughout the site, multiple times. "You'll definitely find an increase in [information] requests and phone calls by making sure your website is mobile friendly and easy to navigate," he said, adding that shops with just a Facebook page definitely will hurt a shop's chances of drawing in customers.
When creating a digital ad campaign within Google, Bing or Facebook, having a monthly budget is important because shops will want to test [the campaign] and have analytical data for a certain period of time — three months of data will allow shops to start making better decisions, Adams said.
[RELATED: Fullbay, TMC release second state of heavy-duty repair report]
While finding the right key words and phrases always is stressed in digital ad campaigns, Adams said developing a negative keyword list is extremely important.
"For example, when you're creating a digital marketing campaign and you're trying to target wheel alignments, you do not want someone with a Honda Civic clicking on your ad and contacting you to get a wheel alignment. You want the guy with the Kenworth. Negative keyword lists are a really good way of excluding irrelevant customers. It gives you a strong click through rate and minimizes your cost per click. Using those negative keyword lists will ensure more customers are finding the right service," he said.
Launching and maintaining a digital marketing campaign can be daunting — or at least time consuming for shop owners who already are busy running a business and getting customers' trucks on the road. Adams explained the importance of finding the right marketing partner.
He said most shops will reach out to a general marketing agency; however, he stressed there are differences between a generalized marketing agency and a specialized marketing agency.
"A general agency will typically be local and make shop owners think, 'These guys are in my city, they know our local market and they know how to bring customers into our shop.' It may be true. There are good local marketing agencies that are general and work with a variety of industries. The difficult part is that it's quite rare they will have a solid understanding of the commercial truck repair industry. What that means is you as an owner are probably going to have to spend a lot of time teaching the agency about your industry," Adams said.
"The difference with a specialized marketing industry is they will have a deep understanding of your industry and how to find your exact customer. Dieselmatic has an exceptionally strong and unique understanding of our industry, and it allows us to do some cool things for shop owners where you don't have to spend the time teaching us on how to market your shop effectively because we do it every single day for shops across North America."