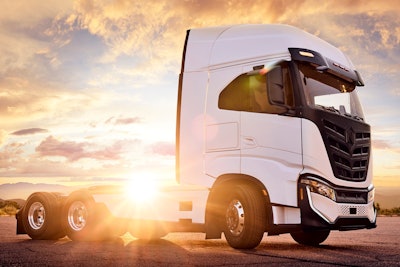 ETHERO Truck + Energy is expanding its footprint to include the West Coast. The zero-tailpipe emissions truck dealership and energy solutions provider has been awarded additional territory in Northern California, broadening the reach for sales and service of Nikola Corporation trucks and Lonestar Specialty Vehicles terminal tractors.
"Making our inventory, sales, and service available for customers in Northern California has been a top priority," says Dave Rogers, Director of ETHERO's Electric Truck Division. "We recognize that West Coast fleet owners and drivers have different incentives and regulations than those we serve in the Mid-Atlantic. Our sales experts and technicians are ready to guide them through the transition to zero tailpipe emissions with the support and knowledge base they can depend on."
California's progress in embracing the electric transportation sector has already set a precedent addressing vehicle emissions, and making the auto industry take note. In March, the Environmental Protection Agency (EPA) announced its decision to grant California the legal authority to require that half of all heavy-duty truck sales in the state be fully electric by 2035, known as the Advanced Clean Trucks (ACT) regulation.
Additionally, California is set to ban diesel truck sales by 2036 as part of the Advanced Clean Fleets rule.
"Seeing the West Coast's earlier acceptance and adoption of EV shows that leaders in this sector are taking actionable steps towards creating a sustainable ecosystem for electric trucking," adds David Baiocchi, ETHERO's newly hired general manager for the California market. "Affordability and infrastructure are still top of mind, and we do not want to alienate fleet owners who aren't there yet. Instead, we are listening and collaborating with our peers in this space, including manufacturers of batteries and chargers here in the U.S., to cut costs and progress towards domestic energy independence."
With its west coast expansion, and as an Hybrid and Zero-Emission Truck and Bus Voucher Incentive Program (HVIP) approved dealer out of Virginia, ETHERO is navigating the popular HVIP incentive program, with multiple other regional and statewide incentive programs available for Class 8 truck purchases. Experts at ETHERO can help California-based companies navigate the San Joaquin Valley and Bay Area AQMD HD Truck programs, Innovative Small E-Fleet, Hybrid & Zero-Emission Truck & Bus Voucher incentive project, and more.
In March 2023, ETHERO announced additional awarded territory in North Carolina and South Carolina, following its launch as the exclusive Mid-Atlantic franchised dealership for the Nikola Tre battery-electric and hydrogen fuel cell electric vehicles and the designated distributor and servicing dealer for Lonestar Specialty Vehicles battery-electric terminal tractors. ETHERO's flagship operations in Mechanicsville, Va., and Elkridge, Md., serve the greater metropolitan areas of Richmond, Baltimore and Washington, D.C