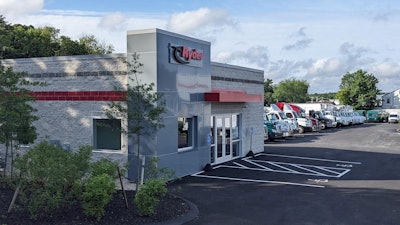 Ryder System has opened a new used vehicle sales center located in Norwood, Mass. The new location will join the largest physical and digital retail network of used commercial vehicles for sale in North America.
This new used vehicle location will serve the Boston South area and is located in the region's "Auto Mile" which represents a highly concentrated area for automotive, construction and commercial activity. Located between Boston and Providence, Ryder's Norwood operation is intended to absorb growing industry demand with a 1,100 sq.-ft., facility.
"Our used vehicle offering provides critical and efficient options for fleet owners. We allow for our customers to choose from a reliable range of vehicles, financing options, and maintenance services as they continue to address e-commerce and omnichannel fulfillment demand," says Eugene Tangney, vice president of global vehicle sales at Ryder. "In addition, at Norwood and all of our other locations, we make sure that if a customer wants a pre-owned vehicle that is not on site, we leverage our network to deliver the right used vehicle for them."
Last year, Ryder opened new centers in Ohio, Alabama, California, and Washington to meet customer needs for reliable and efficient fleet management solutions.
Ryder's used vehicle offerings aim to address the limited market for affordable, diverse, and trusted fleet management solutions that meet customer demands, the company says. Ryder has more than 65 locations across North America, with more than 5,000 pre-owned tractors, trucks, vans, and trailers in inventory for customers to choose from.