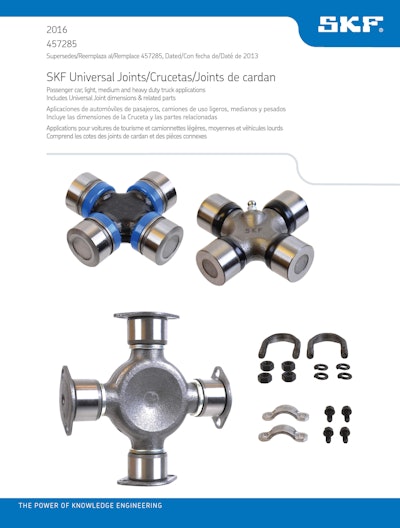 In conjunction with the launch of its expanded u-joint product offering, SKF has introduced a new Universal Joints catalog for light-, medium- and heavy-duty truck applications.
The SKF U-joint catalog provides detailed line drawings indicating u-joint locations for rear wheel drive light- and medium-duty trucks; and 4-wheel drive and all-wheel drive light- and medium-duty trucks. It also provides application listings for passenger cars, light- and medium-duty trucks, as well as heavy-duty trucks.
"The SKF Universal Joints catalog is a great tool for those working with u-joints on a consistent basis," says Don McEntee, vice president of Business Development and Marketing, SKF USA, Vehicle Service Market. "Not only is it a parts look-up reference tool, it's also a resource for all things u-joints – location references, application information, dimensions, related parts listings and more. Ultimately, it will help you do your job better and more efficiently."
SKF says the updated U-joint product line provides broader coverage as well as an expanded range of the high performance Brute Force line. The expansion offers more part numbers for better coverage of automotive, truck, agricultural and industrial applications.
SKF Universal Joints meet or exceed original equipment specifications, the company says. Each part is precision manufactured to provide reliable performance and maximum service life. The SKF Brute Force universal joint is said to be a high-performance part that is designed for higher horsepower and torque applications and extreme conditions. They are available in greasable and non-greasable versions.
This expanded product line gives SKF complete coverage for universal joint-equipped vehicles including cars; light-, medium- and heavy-duty trucks; buses; RVs; construction and off-highway equipment; agricultural and industrial equipment; and marine applications up to and including the 2015 model year.
To download the new SKF Universal Joints catalog, visit www.vsm.skf.com, and click on "Catalogs, data and publications."