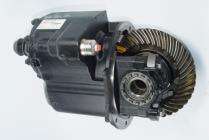 AxleTech International introduces a new core-free carrier program for its popular 145 series carrier.
AxleTech says customers can now order replacement carriers without having to return the original core, saving time and money. Both front and rear differentials are readily available. Future core-free product launches include the heavy-duty forward – rear 145 series carrier (e.g. 145HD), with an upgraded inter-axle differential. 
Axle ratios for the carriers vary from 2.64:1, up to 4.88:1, and all carriers come with a two-year warranty, the company says.
"Our core-free new carrier program features the popular 120 and 145 series genuine carriers stemming from AxleTech's heritage as the former off-highway division of Rockwell Automotive," says Robin Stow, vice president of Aftermarket sales at AxleTech. "These carriers are extremely common in Class 6-8 trucks and numerous off-highway applications.
"We want to make it easier for our customers looking for new or remanufactured carriers by having them keep the existing core, and buy a genuine AxleTech carrier outright.  We provide readily available assembled carriers or rebuilder kits in the most popular on-highway ratios shipping from our PDC in Troy, Mich."
For more information or to place an order, please CLICK HERE, or contact AxleTech's customer service line at 1-877-547-3907.