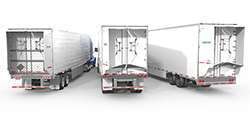 STEMCO hit a corporate milestone this week when its 50,000th TrailerTail rear trailer fairing hit the road.
The TrailerTail uses aerodynamic technology that increases fuel efficiency by an average of 5.5 percent and improves stability and visibility for drivers, the company says, by streamlining the airflow around a semi-trailer and mitigating the low-pressure suction drag that reduces fuel efficiency and creates turbulence.
Every TrailerTail equipped semi-trailer offsets the equivalent greenhouse gas emissions of one passenger vehicle.
In 2015 alone, the company says it sold more than 13,000 units to more than 450 customers, equating to more than 9 million gallons of combined fuel savings – or approximately $18 million.
"We saw tremendous demand for the TrailerTail in 2015 – even with lower fuel prices. As the price of diesel begins to creep back up, and fleets begin to put a greater focus on fuel and energy savings, we expect to see even higher sales of aerodynamic solutions like the TrailerTail," says Bob Montgomery, vice president of the STEMCO Innovative Tire & Mileage Solutions group.
"We've been very pleased with the TrailerTail Trident, and have over 5,000 in our fleet today," says Paul Higgins, director of fleet maintenance at Prime Inc. in Springfield, Mo.
"We're pleased to see our folks achieve an additional 1/4 of a mile per gallon. TrailerTail effectively enables our owner operators to earn an extra penny per mile."
Jimmy Ray, vice president of operations at Mesilla Valley Transportation in El Paso, Texas, agrees.
"At Mesilla Valley, we've been using TrailerTail by STEMCO as long as anyone, and we continue to see a 4/10 of a mile per gallon improvement. We're still using the first units we installed five years ago, and we're pleased with the progress STEMCO has made on durability and the wear parts."