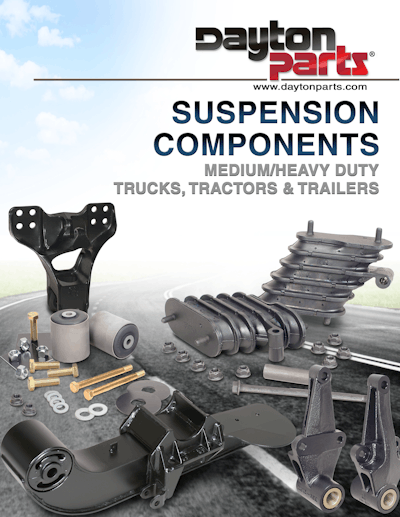 Dayton Parts announces the availability of its Suspension Components Catalog.
According to Dayton Parts, this  printed edition is designed to be an invaluable reference for both novice and experienced parts professionals alike. And to continue assisting customers in identifying the correct part while in front of their customer, Dayton Parts also offers an electronic version which is available on the Dayton Parts Everywhere App and at the company's website.
The comprehensive catalog features 326 suspensions from 52 different manufacturers referencing more than 5,500 Dayton part numbers.  Included are 1,000 new parts, 2,000 product images, new and expanded charts, extensive guide to identify PRIMAXX suspension components along with applications being cross-referenced for shock absorbers, air springs, and leaf springs to insure accurate part replacement, the company says. All exploded view drawings have been revised, updated and redrawn for clarity and accuracy, Dayton adds.
Dayton Parts says the catalog is the most comprehensive catalog in the market today with new and improved features included to simplify component part and suspension identification.