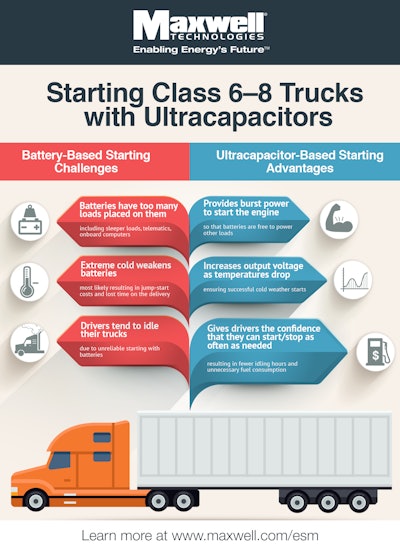 Maxwell Technologies has released a white paper addressing the engine starting technology available in the medium- and heavy-duty marketplace.
The white paper is titled "How Ultracapacitors Improve Starting Reliability for Truck Fleets" and primarily focuses on the advantages of such technology in today's industry. According to Maxwell, ultracapacitors provide an alternative choice for engine starting that ensures reliable starting in the face of:
Increasing accessory loads in the cab and sleeper
Subfreezing overnight temperatures
Excessive summer heat
Many starts and stops during a day
The white paper also addresses the industry dynamics that are moving more vehicle owners from batteries to ultracapacitors, as well as the challenges of battery-based truck starting.
To read the complete white paper, please CLICK HERE.