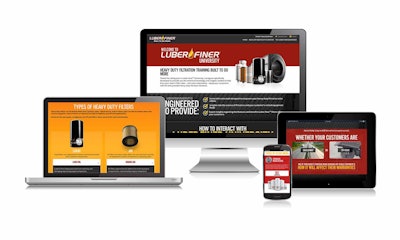 Luber-finer has introduced Luber-finer University, an interactive online training program for distributors and point-of-sale associates who work in the heavy-duty equipment industry.
The comprehensive training tool, which can be accessed from any Internet-connected device, educates users about Luber-finer filters, the filters' competitive advantages and sheds light on the science behind filtration technologies.
"This one-of-a-kind, user-friendly training tool allows Luber-finer to make our extensive expertise in the filtration market easily accessible to our partners," says Layne Gobrogge, director of Heavy Duty Marketing for Champion Laboratories. "In addition to providing users with a solid foundation about the basics of filtration, the training simplifies the more technical aspects of filtration technology."
Unlike many traditional training programs that can be tedious and boring, Luber-finer says Luber-finer University was designed to be approachable, engaging and interactive.
The training modules:
Educate users about heavy duty filtration and Luber-finer's filtration solutions, teach users about the science of filtration, debunk industry myths and provide actionable sales tools
Feature interactive content presented in media-rich formats including videos, 3-D product viewers, "click-to-flip" presentations and more
Are organized in short 15- to 30-minute units, allowing users to pace their learning at a speed that works for them
More than 1,000 people have already enrolled in Luber-finer University training since its launch in July. Requests to enroll in Luber-finer University should be submitted to Luber-finer's team of Regional Sales Managers. Please visit luber-finer.com/contact/regional-manager-locator.aspx to obtain contact information for the Regional Sales Manager in your area.