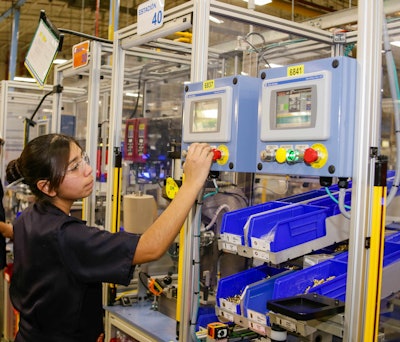 Bendix has doubled its manufacturing capabilities for high-performing solenoid valves and assembled manifold components through a production line expansion and improvement at its Acuña, Mexico, manufacturing campus.
The $1.5 million expansion has allowed Bendix to add a new low-flow solenoid production line and a new manifold line to its high-tech assembly facilities, increasing capacity and allowing the company to offer custom ordering and just-in-time delivery.
"Modern solenoids are capable of managing more than a dozen pneumatic accessories – we're talking fifth wheel slide locks, lift axles, air horns, and wheel differential locks, in addition to others," says Rebecca Carter, Bendix product manager – specialty valves. "Fleets and original equipment manufacturers are looking to Bendix for custom, advanced, low-flow solenoid solutions to meet a practically limitless range of vehicle needs, and these new lines in Acuña enable us to meet a growing demand with increased flexibility."
Bendix says it expanded its existing solenoid production line in Acuña and added a second line in late 2015 to support new customer launches and accommodate increased orders of the Bendix FCS-9700 and Bendix SMS-9700.
In 2016, Bendix continued its investment in Acuña by expanding its manifold production area, where individual solenoids are combined into the manifolds that manage a vehicle's air accessories.
"With these additions, Bendix can now produce nearly 1.2 million individual solenoids annually, and more than 350,000 manifolds," Carter says. "We have essentially doubled our solenoid and manifold operations across the board in terms of manufacturing floor space, equipment, and employees, with no sacrifice to the performance and reliability that our customers expect Bendix to deliver."
The company says its production of manifolds are designed to meet customer demand for just-in-time delivery and line-sequenced ordering, with up to eight solenoid valves assembled into each manifold, configured to support specific air accessory features. Among the truck manufacturers equipping Bendix solenoid valves are Paccar, Volvo, Mack, and Daimler Trucks North America.
Together, Bendix says the solenoid and manifold production improvements further Bendix's development of the high-tech production capabilities of its Acuña facility, following up on a $4.6 million investment and the October 2016 launch of an advanced driver control module (DCM) assembly line. Other manufacturing operations at the campus include antilock braking systems, air dryers, compressors, actuators, and remanufactured components, the company says.