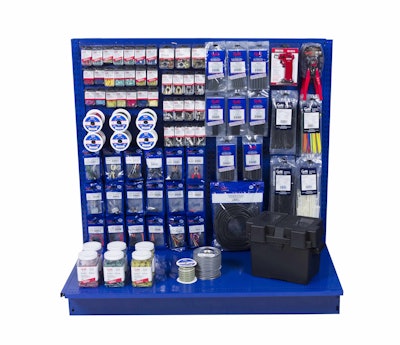 Grote Industries is now offering more than 15 new product merchandising and display options for its electrical connections and accessories line.
According to Grote, these comprehensive, retail-friendly displays will give customers access to the most popular, in-demand products for their specific needs and applications. Product categories include Air and Power Delivery, Electrical Connection Repair and Maintenance, Fuse and Circuit Protection, and Battery Connections, among others.
"Packaging that clearly states what the product is and allows for visible inspection of the product will appeal to consumers," says Grote Business Development and Marketing Manager Mark Paul. "A distributor can quickly identify when a product has been sold, allowing them to react quickly to re-stocking needs in their location, thereby reducing potential lost sales situations. An organized, well laid out display area enhances the overall customer experience."
Grote says the updated product displays and plan-o-grams vary in size, depending upon product mix and category, ranging from 16 in. to 12 ft. in width and 17 in. to 6 ft. in height. These displays join the already existing primary wire dispenser and add one new spinner rack display, for a total of three.
"Effective utilization of space is paramount in any location," says Paul. "Grote plan-o-grams range from very compact wall displays to full wall options, as well as spinner racks that allow for maximum optimization of space."
To acquire any of the displays, Grote says to contact your authorized Grote representative for more information, or view the new Accessories Merchandising and Product Display Options by visiting Grote's online Customer Information Center.