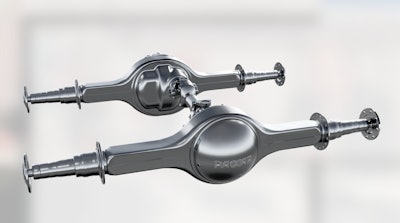 For the third product in our countdown, and the eighth-most popular of the year, we turn our attention to Paccar, specifically the OEM's new axle.
Released in October, the new Paccar proprietary axle is designed to improve the operating efficiency for line haul, regional haul and pick-up and delivery customers.
Paccar says it is rated at 40,000 lbs., supporting a gross combination weight of 80,000 lbs.
It will be available from Kenworth and Peterbilt dealers next month.
Paccar says the axle comes with a warranty of five years or 750,000 miles. It also offers axle ratios from 2.47 to 3.70 with engine torque compatibility up to 1,650 ft.-lb. and multi-torque rating compatibility up to 1,750 ft.-lb.
To read the original release in its entirety, please CLICK HERE.
And be sure to stay tuned Wednesday as product No. 7 will be released.