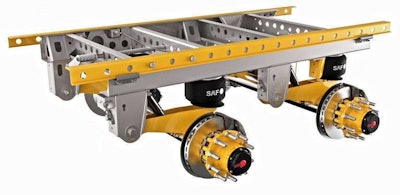 The No. 6 new product release is a two-fer from SAF-Holland.
First published in October, the release featured the introduction of SAF-Holland's third and fourth new products of the calendar year: a new trailer suspension (CBX40 AeroBeam) and a technology enhanced fifth wheel tool (ELI-te).
During the press event announcing the new products, SAF-Holland said the CBX40 AeroBeam features a 80 ksi steel sub-frame and four full-height cross members. The unit's full sub-frame design features 12 percent thicker friction welded axles than competitive models that helps improve inside tire life. It's total running gear – axles, suspension and brake system – is about 20 percent of the trailer's overall weight. And with a base weight of 1,267 lb., SAF-Holland says the CBX40 AeroBeam helps offset the weight added by aero fixtures and offers, is about 10 percent lighter than the outgoing CBX40 model.
The ELI-te product is available as an integrated option on FW35 Series fifth wheels. SAF-Holland says the ELI-te is mounted directly to the fifth wheel top plate and features electrical output capability to support connection with remote indicators.
If the system senses a coupling problem, the company says daytime-visible red LED lights will flash from both sides of the fifth wheel. The red lights will remain flashing until the system is reset, which consists of pulling the truck forward and away from the trailer. The driver would then reattempt the coupling.
To read the original release in its entirety, please CLICK HERE.
And be sure to stay tuned Friday as product No. 5 will be released.