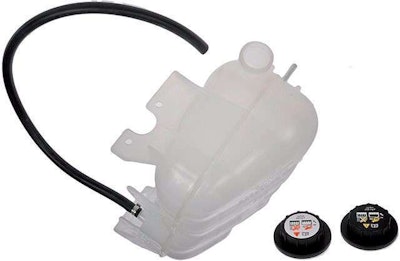 As we reach the medal stand, we come back to Dorman HD Solutions.
Coming in at No. 3 in our annual countdown is the company's former dealer-only parts release from January, which featured a battery cover, coolant check valve, DPF clamps, coolant reservoir and fuel tank strap.
According to Dorman, the battery cover features Isuzu trucks, the coolant check valve is for Volvo trucks, the DPF clamps work with Cummins' engines, the coolant reservoir is for Ford and International trucks while the fuel tank strap is designed for Freightliners.
Dorman has more than 15 SKUs for the coolant reservoir, the company says.
This is the third consecutive year Dorman HD Solutions has had at least one product in the top three of our annual countdown. The company also has had the No. 1 release the past two years.
To read the original release in its entirety, please CLICK HERE.
And be sure to stay tuned next Wednesday as product No. 3 will be released.