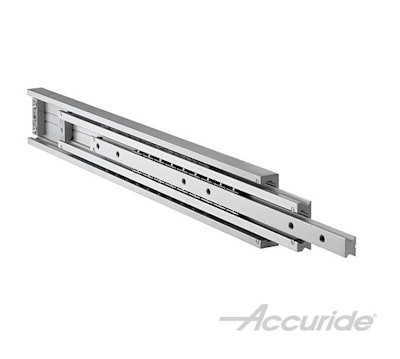 Accuride International has launched its AL4160 Super Heavy-Duty Aluminum Slide in the United States.
According to the company, the slide is a strong but light solution that combines a full aluminum body with stainless steel components for diverse transportation and industrial applications.
"We designed the AL4160 to address a market need for a slide that supports heavy loads and performs in harsh environments but also is lightweight, low-profile and competitively-priced," says Sid Kalantar, senior vice president of sales and marketing for Accuride. "Our U.S. introduction follows eight years of successful customer use in Europe."
The AL4160 slide joins Accuride's AL series of super heavy-duty aluminum-and-steel slides.
The company says key benefits and features of the AL4160 slide include:
Lightweight and a high load rating (up to 661 lb./300 kg)
Corrosion resistance – essential for moist and humid environments
A low profile (1.04 in. of side space)
Full extension
The company says the AL4160 is ideal for applications in transportation, outdoor environments and industrial production.