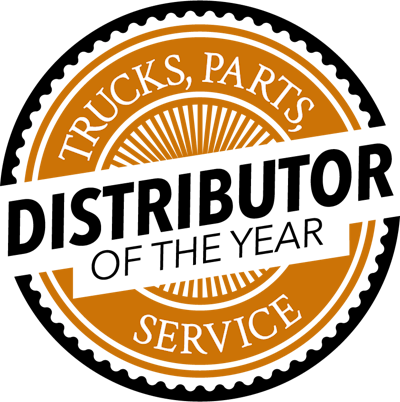 Last month, Trucks, Parts, Service announced the finalists for our landmark 20th Distributor of the Year Award, sponsored by the Commercial Vehicle Solutions Network (CVSN), Interstate Billing, Karmak Meritor and High Bar Brands' Minimizer and Premier Manufacturing.
This year's finalists are an impressive group, representing 46 points of sale across ten states. They also have more than 400 years of experience serving the transportation industry. We will profile these businesses in the months ahead, but before we do, we decided to ask each finalist to tell us more about their operations in their own words. Today we learn more about Midwest Wheel Companies.
This is the fourth Distributor of the Year finalist nomination for Midwest Wheel Companies. The company was previously a finalist in 2002 and won the award in 2004 and 2012. The answers below were provided by Vice President Steve McEnany.
When was your business founded, and by whom?
In the spring of 1911, two tire builders from the old Diamond Rubber Company, in Akron, Ohio, opened the first tire vulcanizing shop west of the Mississippi, in Des Moines, lowa. They specialized in rebuilding and retreading tires. George Koons and Fred Prior had a hard time at first. The tire repair business was still a very new trade, and the partners had to supplement their families' incomes by taking turns working in Akron rubber factories during the winter. (George Koons was great great-grandfather to Michael Callison Jr., the current president of Midwest Wheel Companies, great grandfather of Michael Callison Sr., grandfather of James W. Callison and W.A. "Mike" Callison's father-in-law. "Mike" Callison joined the firm in 1925.)
The business progressed with the establishment of a wire wheel repair service. Race car drivers took particular advantage of this service, since it was the only one in the area at the time. Among them, the famous dirt track driver, Barney Olfield, was often seen in the service department waiting for repairs on his car's wire wheels and tires. During the late teens, as the business changed from tires to wheels, the name was changed to Iowa Wheel and Rim Corporation.
The next decade brought about a new era, with the arrival of the steel wheel. By the time Mike Callison joined the firm in 1925, Iowa Wheel and Rim Corporation was already distributing products for the heavy weights of the wheel and rim industry such as Firestone, Budd, Motor Wheel, Kelsey, Hayes, and Wire Wheel Corporation of America.
In 1927 we changed our name to Des Moines Wheel and Rim Company. Jim Callison, Mike's son, joined the firm as a partner in 1948. Jim nurtured the company through one of its most dynamic periods of growth. We had moved a couple of times before 1959, when we moved to our present location at 1436 East Ovid.
Business continued mainly with wheels, tire, and service until the 1950s and 60s when we began expanding into various other parts for heavy-duty trucks. At one point in time wheels were over 80 percent of our business, compared to less than 3 percent today as wheels are only a small portion of what we do.
The 1970s brought some big additions. In 1972, we bought Midwest Wheel & Rim of Davenport, with a branch in Dubuque, and in 1978 we opened a branch operation Midwest Wheel & Equipment, in Clear Lake. The new locations helped us better service customers located in our outlying marketing areas. Then, in 1981 we moved our Dubuque branch to Cedar Rapids, lowa, another highly industrialized trucking center of lowa. The 70s and 80s also brought along the need to diversify and evolve where we saw opportunities to expand. We began selling custom steel and aluminum wheels for light trucks in the early 70s, this eventually expanded into the much larger market of light truck accessories, which has become a highly successful part of our business.
Our locations today now all operate under the Midwest Wheel banner to offer customer consistent price, policy, and service in any location they visit.
We are still family owned to this day even through five generations. Though we are family owned our employees now own our future as well. In early 2010 Mike Callison Sr., and family initiated an employee stock ownership plan for all employees, giving all employees the opportunity to partake in the company's long-term success.
With steadfast dedication we will continue serving the Midwest as a leader in the heavy-duty truck and light truck accessory markets for another 100 years.
How many locations do you have? (Please list the cities)
We have seven locations: Des Moines, Clear Lake, Davenport, Cedar Rapids and Sioux City, Iowa., and Kansas City and Joplin, Mo.
How many employees do you have?
We have 250 employees.
What is your company's value proposition?
Our employees are engaged in the industry, working with the latest technologies to provide the best solutions and value to your operation. We bring our customers the brands they trust, superior delivery, training and seven fully stocked warehouses.
Do you offer any additional services to complement your parts offering?
We operate a truck shop in our Kansas City location that includes many specialized services like crane inspections and spring repairs.
[RELATED: Learn more about 2021 DOTY finalist LASCO Heavy Duty]
How do you differentiate your business from your competitors?
We focus on partnering with our customers and being the solution to the customer's needs. We offer quick access to the inventory through websites, dedicated well trained inside and outside salespeople, texting, email and web chat. We supply our team with a modern cloud-based computer system with built in tools to help solve the customer's need. For example, our AI tool at the parts counter can be used to make sure when you buy a spring, the sales person reminds you that the U-Bolts will also need to be replaced. This solution focused tool helps us improve our service.
In the world of distributors, you need to find the right part number, but you also need to have it available and be ready to deliver it to where it is needed. Our network allows us to get the right part to the right place quickly and reliability.
Why do you believe the heavy-duty aftermarket has nominated you for this award?
Our dedication to the industry and focus on the customer's success is a key objective for our team. From Strategic Advisory Councils, Boards, DACs, our team is dedicated to helping the industry grow into the future.
We see that investment pay off when a disaster like the pandemic takes hold and we find our staff ready to keep the industry moving. Opening our newest location in Joplin, Mo., as we were all wearing masks really highlights the company's focus on growing into the future.