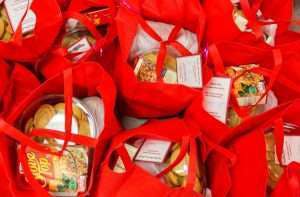 Shrewsbury, Mass.-based Tri State Truck Center will deliver 2,555 fresh meals to food-insecure community residents through its upcoming annual Haulin' 4 Hunger event.
Hunger is a growing problem in the U.S. More than fifty million people in America don't know where their next meal is coming from.
In lieu of giving holiday gifts to its customers, Tri State decided five years ago to give those gifts as meals to community residents in need. Tri State's customers embrace this pay-it-forward gesture and help out with the event by delivering farm-fresh, holiday meals with Tri State to those who don't regularly receive one.
Over the past five years of giving, Tri State has provided more than 9,000 fresh meals to local families in need, while creating a community of giving throughout the trucking industry.
This year, the Tri State team is joined by six co-sponsors: SelecTrucks of New England; Regency Transportation, Inc.; Promotional Solutions, Inc.; Flynn's Truck Plaza; Al's Oil; and Ted's of Fayville, Inc.
With the support of BJ's Wholesale Club in Northborough, Mass., Tri State will purchase an assortment of farm fresh groceries for the holidays, including hams, turkeys, potatoes, carrots, green beans, stuffing mixes, and assorted baked goods. Each meal will then be hand-packed by the Tri State team and placed in a custom red tote bag during the pick n' pack process to prepare for the holiday deliveries.
On the day of the event this year, the company will be joined by Massachusetts Senator Michael Moore and members of the Worcester Chamber of Commerce. All 2,555 meals will be hand-delivered by the Tri State team of employees and sponsors. The delivery route includes stops at local organizations in the greater Worcester community: St. John's, St. Anne's, Jeremiah's Inn, Veterans Inc., South Worcester Neighborhood Center, and Abby's House.
"Having the opportunity to hand-deliver each red tote bag to the six local organizations is the most rewarding and eye-opening experience for my employees and me," says Kevin Holmes, chief executive officer and founder of Tri State Truck Center. "It truly captures the inspiration and essence of the Haulin' 4 Hunger event"