Nikola Motor Company filed a lawsuit Tuesday against Tesla Inc., alleging the electric-car company infringed on several of its Class 8 truck design patents.
The hydrogen-electric truck startup claims Tesla's Semi – set for production next year – violates Nikola patents for the truck's fuselage design, mid-entry door and wrap-around windshield.
"The Tesla Semi design is substantially similar to Nikola's unique design, and Tesla copied Nikola's patents," the filing claims.
Supporting its claim that the two designs are remarkably similar, Nikola pointed out the aerodynamic drag coefficient of both tractors is almost the same. The Tesla Semi claims a drag coefficient of 0.36, while Nikola One claims a drag coefficient of 0.37.
"An ordinary observer would find that the Tesla Semi fuselage is substantially similar to the [Nikola] Fuselage Patent, and that Tesla infringes Nikola's patent," the filing says.
A spokesperson for Tesla called the allegations meritless.
Nikola claims it has suffered damages of more than $2 billion by the alleged infringement, which it claims "has harmed Nikola's plans by causing confusion in the market … The confusion has diverted sales from Nikola to Tesla." Further, the suit claims, "Tesla's infringement has harmed Nikola's ability to attract investors and partners because investors can now partner with Tesla to have an alternative fuel semi-truck."
When a spy photo of the Tesla Semi hit the Internet last year about a month ahead of its official debut, Nikola claims it sent a letter to Tesla notifying the company of Nikola's pending patent applications, stating its belief that the electric Semi would infringe on those patents, "and demanded that Tesla refrain from unveiling its Semi," the filing says.
The suit requests a jury trial.
Nikola debuted its Nikola One tractor in Salt Lake City in December 2016, almost a year before Tesla showcased its electric Semi in Hawthorne, Calif.
Nikola nabs order from A-B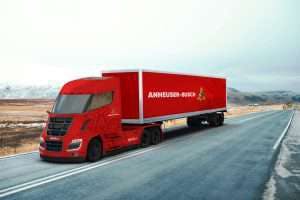 Nikola also announced this week that Anheuser-Busch has placed an order for up to 800 hydrogen-electric powered semi-trucks from the pioneer in hydrogen-electric renewable technology. The zero-emission trucks are expected to be integrated into Anheuser-Busch's dedicated fleet beginning in 2020, Nikola says.
Through this agreement Nikola says Anheuser-Busch aims to convert its entire long-haul dedicated fleet to renewable powered trucks by 2025. Nikola's cutting-edge technology will enable the brewer to achieve this milestone across its long-haul loads, while also helping to improve road safety through the trucks' advanced surround viewing system.
"At Anheuser-Busch we're continuously searching for ways to improve sustainability across our entire value chain and drive our industry forward," says Michel Doukeris, CEO of Anheuser-Busch. "The transport industry is one that is ripe for innovative solutions and Nikola is leading the way with hydrogen-electric, zero-emission capabilities. We are very excited by the possibilities our partnership with them can offer."
"Hydrogen-electric technology is the future of logistics and we're proud to be leading the way," adds Trevor Milton, CEO of Nikola Motor Company. "Anheuser-Busch has a long history of investing in progressive, sustainable technology and we are excited to partner with them to bring the largest hydrogen network in the world to the USA.
"By 2028, we anticipate having over 700 hydrogen stations across the U.S. and Canada. With nearly nine billion dollars in pre-order reservations, we are building to order, not speculation, and are very excited for what's to come."