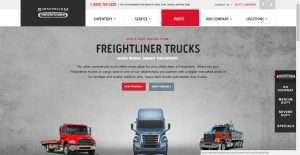 Birmingham Freightliner has redesigned its website, www.birminghamfreightliner.com. The updated site features a modern, responsive design, a focus on inventory search navigation and newly-added content pages for each department of the dealership, including Alabama Freightliner, the company's satellite location in Tuscaloosa, Ala., according to an announcement.
All search functions are easily accessible from the homepage. Customers can filter trucks by "new" or "used", brand, location, cost, year and horsepower. Once a search has been made, multiple trucks can be viewed side-by-side with the site's Compare Tool. Another new feature to the site enables customers to build their own new Cascadia from the wheels up, called the Cascadia Configurator Tool.
Additionally, the site will feature regularly updated specials on parts, service and financing from the dealership and Daimler Trucks North America. All of Birmingham Freightliner's upcoming events and news will be kept up-to-date and auto-populated throughout the site.
The site, which was was completed with the help of digital marketing agency Atypic, also will feature enhanced communication features with designated channels for specific groups within the organization, utilizing integration technology.