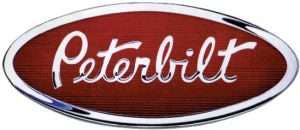 Peterbilt Motors Company has announced enhancements to its Peterbilt SmartNav system, available for order in November 2018.
As part of the enhancements, Peterbilt will offer the PeopleNet app fully integrated into the SmartNav display, eliminating the need for PeopleNet users to wire and install a secondary device. The integration includes an ethernet connection for enhanced data security, the ability to use the app for electronic logging device functionality and integration of fleet management systems for Peterbilt customers.
"Peterbilt commits a significant amount of time and resources to researching the driver environment," says Kim Lawton, medium-futy and technology marketing manager, Peterbilt Motors Company. "Removing the need for a secondary device to handle fleet management and logging device functionality improves cab ergonomics and is a testament to Peterbilt's dedication to the driver."
Garland Jackson, senior vice president and general manager, OEMs/channels for Trimble's Transportation Mobility Division, says, "For more than four years, PeopleNet and Trimble have partnered with Peterbilt to deliver factory-fit solutions that help fleets increase performance and efficiency. With the incorporation of the PeopleNet app into the SmartNav display, Peterbilt can now offer fleet customers seamless access to Trimble's latest fleet mobility solutions in a factory installed solution."
Also available in the updated display is the Peterbilt TruckCare Roadside Assistance app. The integrated Android-based application is standard on the SmartNav display and connects to the drivers phone via Bluetooth. The application can directly dial the Peterbilt TruckCare call center for 24/7 roadside assistance.
"With the incorporation of these systems, Peterbilt customers now a have a fully integrated business management solution with SmartNav. Peterbilt's goal is to give customers and drivers the tools they need to complete their jobs in the most user-friendly way possible," Lawton says. "Having the PeopleNet and TruckCare Roadside Assistance apps at the fingertips of the driver is a direct reflection of Peterbilt's willingness and dedication to work with customers to increase safety and productivity."