For as long as heavy-duty trucks have been on the road, people have been tinkering with their engines to improve performance.
But over the last 15 years, as federally mandated emission regulations have been created for and implemented in the heavy-duty marketplace, the legality of this tinkering has changed.
What was once unproven is now becoming unlawful.
Regulations written by the Environmental Protection Agency (EPA) and National Highway Transportation Safety Association (NHTSA) now state any modification of a vehicle's engine or its emission system that impact the vehicle's ability to meet all not-to-exceed (NTE) emission, Greenhouse gas (GHG) and fuel efficiency regulations is tampering, and is illegal.
For dealers and repair facilities offering engine service in today's marketplace, it is absolutely vital to understand the implications associated with actions.
The punishment for any business found complicit in emission system tampering is quite severe.
The EPA fines service facilities $37,500 per incident for tampering-related violations. The maximum tampering fine for vehicle owners is $3,750.
The existence of tampering in today's commercial vehicle marketplace is the result of an air quality movement that started with the Clean Air Act more than 50 years ago.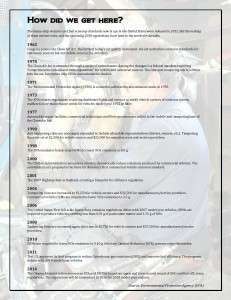 The United States passed its landmark environmental law in 1963, and later amendments to the led to the first set of air pollution laws for vehicles in 1970 and the formation of the EPA in 1971.
Anti-tampering rules were written in the 1970 amendment but applied "only to manufacturers and car dealers," the EPA says. Further amendments later expanded the rules to include repair facilities, technicians and fleet operators in 1977, and everyone in 1990.
The law cited tampering in its 1990 update as "to remove or render inoperative any device or element of design installed on or in a motor vehicle or motor vehicle engine in compliance with regulations."
That statement remains an apt definition for tampering to this day.
Bill Puchniarz, manager, inline field services at Navistar, says tampering qualifies as "anything that takes a vehicle out of its EPA/CARB certified state."
Please CLICK HERE for Part II of Successful Dealer's investigative report on emission tampering in the heavy-duty marketplace — the aftermarket organizes a defense. For a downloadable PDF copy of the entire special report, please CLICK HERE.