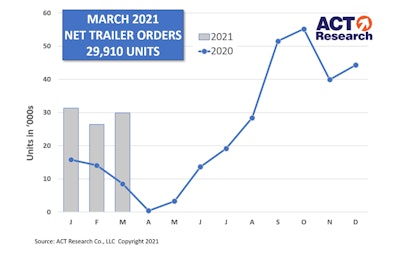 While new trailer orders ticked up in March and more than doubled from a year ago, ACT Research reports year-over-year comparisons will be less valuable in determining the strength of the market because of the effects of the COVID-19 pandemic's effect on 2020.
March U.S. trailer orders of 29,910 units grew more than 13 percent from the previous month and rose more than 250 percent compared with March of 2020. Before accounting for cancellations, new orders of 33,4000 units were up 18 percent versus February and 136 percent better than the previous March, according to this month's issue of ACT Research's State of the Industry: U.S. Trailer Report.
After a bit of a pause in February, orders bounced back solidly in March. In considering longer-term comparisons, though, he cautions, "We're now beginning to enter a period where, because of the unprecedented COVID-related impact in 2020, year-over-year comparisons will become much less valuable in determining the strength of the market," says Frank Maly, ACT Research director–CV transportation analysis and research.
"While one OEM has publicly stated it is 'pausing' order acceptance until the company can better determine longer-term materials costs, others continue to negotiate and book orders," Maly says. "With many large fleets already on the orderboard, perhaps the next few months will result in a bit more stable order placement until OEMs generate further production rate improvements."
ACT Research's State of the Industry: U.S. Trailers report provides a monthly review of the current U.S. trailer market statistics, as well as trailer OEM build plans and market indicators divided by all major trailer types, including backlogs, build, inventory, new orders, cancellations, net orders and factory shipments.