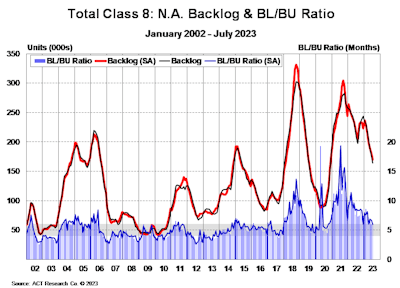 Recent market analysis by ACT Research indicates the truck and trailer backlogs are likely to keep falling in the months ahead until 2024 order boards are opened.
In the Class 8 space, backlogs fell by 11,632 units to 163,576 units last month. At 5.9 months, the nominal backlog-to-build ratio remains comfortably healthy into year end, ACT Research says. In Classes 5-7, the backlog slipped 1% last month to 116,890 units. The backlog-to-build ratio is a still elevated 4.6 months on the smaller backlog and higher daily build rate.
Says ACT Research President and Senior Analyst Kenny Vieth, "With over 90% of the current backlog scheduled for build in 2023, Class 8 backlog is likely to continue to decline until 2024 order boards are opened."
Vieth says July's Class 8 build rate slightly exceeded OEM build plans, but remainder of the year guidance was trimmed slightly.
"Notably, Class 8 build and retail sales were virtually identical last month, keeping inventories at relatively lean levels. Tight inventories are a reminder that pent-up demand continues to be worked off in 2024," he says.
Within the trailer space, the company says clouds on the trailer market horizon bear watching but industry stakeholders remain cautiously optimistic for next year.
[RELATED: Dissolution of Yellow beginning to impact freight]
"In addition to an improved longer-term outlook, nearer-term, general business conditions and material supply chains remain on par with July levels in the face of continued strong trailer output," says Jennifer McNealy, director, CV market research and publications at ACT Research.
"Supply-chain issues have essentially normalized, and OEMs continue to report smaller, more manageable, and less impactful disruptions. Build was 14% lower month over month, partly attributable to one less build day in July. As expected, production outpaced orders into July's annual order trough, dropping trailer backlogs 15% year over year. Because large backlog declines are seasonal, and thanks to a lower build rate, the seasonally adjusted backlog-to-build ratio shed a modest 20 basis points to 6.9 months. The current backlog essentially commits the industry into the beginning of 2024."
McNealy also notes cancelations had a lower impact to the backlog in July following two months of elevated activity.
"Some OEMs have told us customers are cutting back on their anticipated order appetite for this year and next, with fewer customers remaining on the sidelines to pick up near-term build slots as they become available. Clearly, the demand dynamic is shifting," she says.