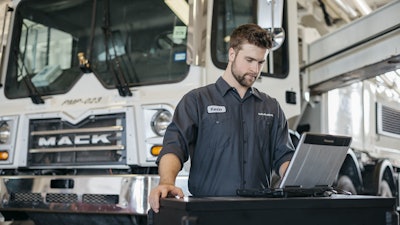 Mack Trucks
While OEMs explain what makes automated manual transmissions better and growing in acceptance (See Part 1) — namely fewer moving parts and diagnostic and telematic services — technicians still must be able to diagnose and repair the popular AMT as well as be aware of its common wear points.
"An AMT is no more challenging to maintain than a mechanical transmission. It's just a matter of learning how they are different and how their preventive maintenance practices are different," says Tim Bauer, vice president, aftermarket, Eaton's Vehicle Group.
Although AMTs reduce the complexity of operations for the driver and wear and tear on the transmission is reduced, service will always be needed, along with proper scheduled maintenance such as oil and filter changes and chassis air system maintenance, says Johan Agebrand, product marketing director, Volvo Trucks.
At Mack service facilities, technicians can use the proprietary Mack Tech Tool, available for purchase by Mack customers to plug in and scan the mDRIVE to retrieve fault code information and perform health checks on the transmission and clutch operations. This insight may prompt preventative measures to help prevent a future service event and improve uptime, the OEM says.
Bauer stresses regular inspection and maintenance of the air dryer is essential. Trucks equipped with pneumatically shifted AMTs require regular inspections and maintenance to their air systems.
"Many fleets do not replace the desiccant cartridge during routine maintenance; some wait until the dryer fails or chooses to use an air dryer cartridge from a non-genuine supplier that doesn't protect the air system properly. Moisture in the system can result in harsh shifting, or even a loss of shifting completely," he says.
Eaton says battery maintenance also is important for electrically shifted AMTs. Battery life for trucks can vary greatly from roughly 12 to 36 months. Heavy electrical draw can affect battery life, which may be the case with an electrically shifted AMT. That means fleets may see shorter replacement cycles in the 12- to 18-months range.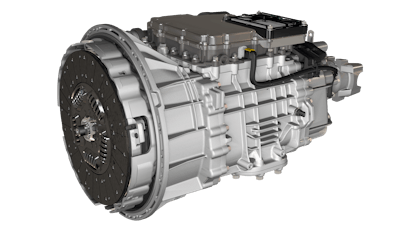 Tooling matters too. Technicians require specific tools to properly service an AMT. An AMT is a more technologically complex transmission. Eaton's PC-based diagnostic software is called ServiceRanger 4, in which every AMT has a fault code hierarchy to help technicians quickly identify the faults that are most important and direct them to what needs to be fixed.
Bauer says fleets are becoming more agile to invest in predictive diagnostics than ever before. Predictive diagnostics can benefit the fleet in reducing unscheduled downtime.
"Eaton's remote diagnostics tool IntelliConnect is a suite of connected solutions designed to improve a fleet's uptime and efficiency and reduce the total cost of ownership. IntelliConnect provides near real-time monitoring of vehicle fault codes, prioritizes the critical events and provides accurate and comprehensive action plans created by Eaton's technical experts," he says.
And, as with any heavy-duty truck component, AMTs also have wear points that require special attention.
"The most common wear item is the clutch," Agebrand says. "Other parts replaced are associated with scheduled maintenance, such as transmission oil and filters."
Bauer agrees regarding the clutch but adds "with manual [transmissions] there are no software or system to prevent drivers from abusing the clutch. Therefore, AMTs will have a longer life than manuals."
Len Copeland, product marketing manager, Detroit Products, agrees. Clutches need adjustments as they wear; some clutches require manual adjustments as they wear, and others have self-adjusting clutches.
"The DT12 has a self-adjusting function which allows the clutch to always remain in prime adjustment. Manual transmissions also require inspection and greasing of their components, based on the OEM specifications, while AMTs have no grease points. Finally, transmissions require the transmission fluid to be changed at regular intervals," Copeland says.
He adds drivers should be aware of their clutch's heat. An overheated clutch has a burnt smell both for AMTs and manual transmissions alike.
[Related: How to identify when a clutch is failing]
"Detroit DT12 transmissions are equipped with a clutch temperature sensor that will notify the driver via a pop up on the dash when the clutch is too hot for safe operations. An indicator of a clutch issue is if the transmission fails to shift into a gear smoothly when driving an AMT. Manual transmissions are prone to grind when grabbing a start gear when worn out excessively," he says.
In addition to the clutch, Greg Holderfield, Mack Trucks director of technical support services, also mentions the AMT's filter.
"An AMT's clutch and actuator components typically experience the most wear," he says. "AMTs require this filter because they are pressure lubricated, while manual transmissions are splash lubricated."
AMT technician training
By investing in AMT training, service shops can ensure no business is lost due to an inability to repair or maintain the transmission.
Bauer says, "Training and proper tooling are key elements to minimizing truck downtime when a failure occurs. Part of the training needed is to understand the software required to diagnose any issues on an AMT when it arrives in the service facility."
While lubrication intervals are the same for AMTs and manual transmissions there are lubricants specifically formulated for AMTs. For example, Eaton's heavy-duty AMTs require Eaton's PS-386 transmission lube, which is specially formulated to prevent wear and improve fuel economy. The company says fleets should always refer to manufacturer recommendations as to which lubes should be used in which transmissions, especially with AMTs. The Eaton Cummins Endurant HD automated transmission also has an exceptionally long oil change interval of 750,000 miles due to the technology and architecture of the transmission, Eaton says.
"Not only does trouble shooting DT12 fault codes using 3DL cut down on the training of technicians for transmission work, there are heaps of testing procedures and service routines contained in the tool that makes troubleshooting efficient and precise," Copeland says.
Copeland says all technicians within the DTNA service network receive ongoing training education. "Some repair procedures require special tools and advanced levels of training to properly diagnose and complete, so we recommend connecting with the dealership or fleet representative before making a significant investment in training and tooling to complete these repairs," he adds.
"It is important for technicians to be trained to maintain and diagnose and repair AMTs. Having the proper training reduces repair time and increases the ability to fix it right the first time. We offer a variety of computer-based training modules and in-person training sessions for our manual transmissions, automated transmissions, and clutches through our Roadranger Academy," Bauer says.
"All dealers in the Volvo Trucks North America network are trained on the diagnosis and repair of our entire product line-up," says Agebrand.
Holderfield adds, "The Mack Trucks Academy offers Mack dealers and service professionals hands-on and online courses for AMT diagnostics and repair. Classes and training are also available to Mack customers, who can register through their local Mack dealer."
Whether they are working on a pneumatic or electrical system, it is very important the technician receives proper training for the particular product they are working on. "Training is essential to accurately diagnose and repair these systems in a safe and timely manner," Bauer says.