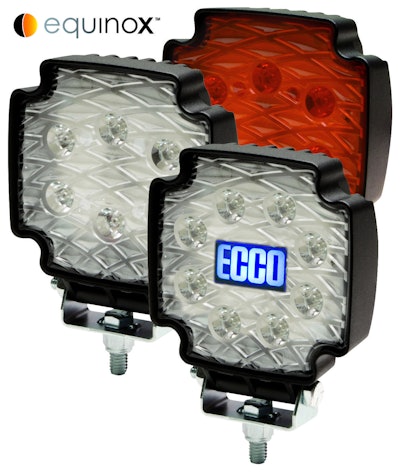 Ecco has released its new Equinox LED worklamp line.
With a modern housing shape and exclusive ECCO grille recessed in the lens, Ecco says Equinox is a distinctive universal worklamp that shines brightly in any work environment. Additionally, the EW2102 model features Lo-Glo, an illuminated Ecco logo that provides both a modern look and offers additional safety as an obstruction marker light, the company says.
The line also includes an amber model commonly used in low visibility situations such as dust, snow and fog, and in areas where the use of rear facing white lights is prohibited by law, the company says.
All models feature a polycarbonate lens, aluminum housing, IP67 protection rating and a three-year warranty. Ecco says the EW2102 series has the added benefits of a UV hardcoated lens and a Gore vent for superior environmental protection.