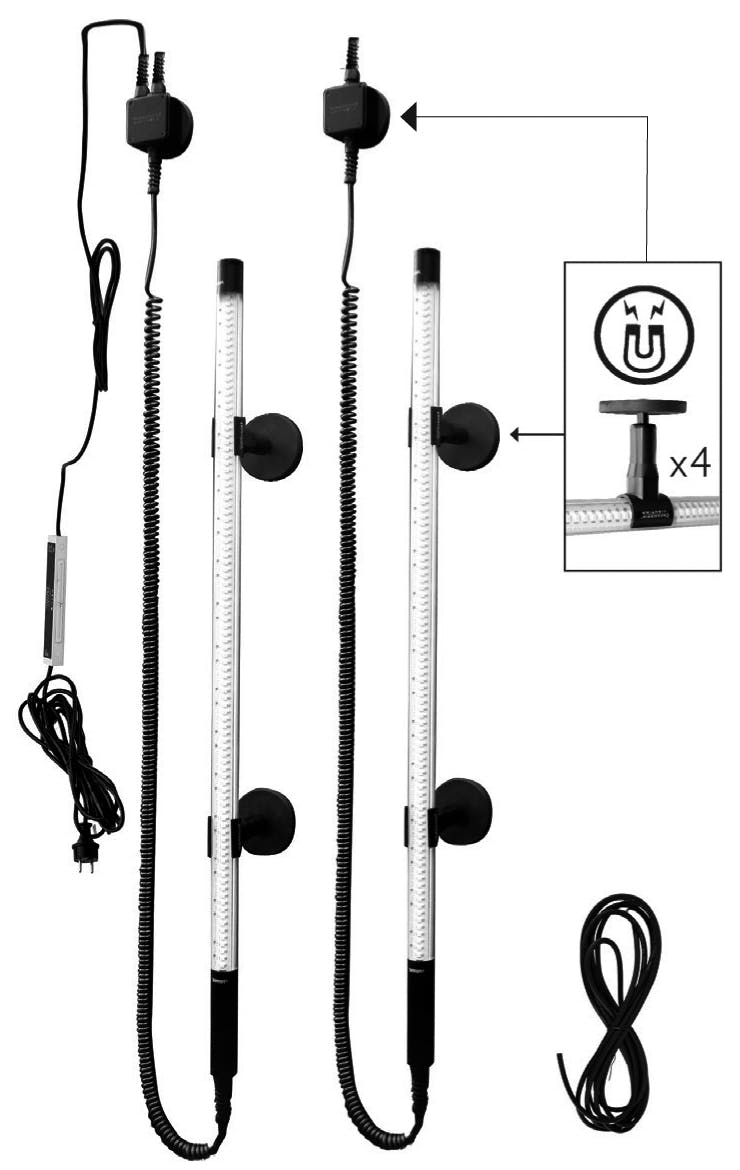 Rotary Lift is shedding some light on the vehicle repair process with Tech Lights, a new line of LED shop lights.
The Rotary Lift Tech Lights series offers powerful lighting options that can be adapted to meet a variety of service bay needs. Each light comes with mounting clips that are magnetic, so the lights can be set up in a variety of locations without drilling, the company says.
"Technicians can always use more light under the vehicles they work on, but fixed lights that are built into the vehicle lift itself are not as useful as something that can be repositioned," says Ron Lainhart, Rotary Lift parts and service manager. "Our Tech Lights lamps' magnetic mounting clips make it possible for technicians to attach the lamps to a lift's columns, its arms, a tool cart or the vehicle itself. As a result, Tech Lights lamps are ideal for both close-up inspection work and general-purpose lighting."
Tech Lights shop lights are available in three kits. The two-post lift kit (P/N FA5701) includes two 32-in. line light units, each embedded with 96 LEDs and fitted with two magnetic mounts. Rotary Lift says the kit's power cable is more than 25 ft. long to ensure it covers the distance between the lift and an outlet. From the power supply box, each light is further fitted with a coiled cord that offers more than 15 ft. of range for moving the light to different locations. The light housing is a slim 1 in. diameter so it can illuminate compact work areas, the company says. The two-post lift kit is ideal for two-post, heavy-duty inground and mobile column lifts.
The four-post lift kit (P/N FA5700) includes four 48-in. long, 1 in. diameter light units and eight magnetic mounts. All four lights are controlled from a single switch for quick and easy setup, the company says.
For maximum versatility, Rotary Lift offers the hand-held single Tech Light shop light (P/N FA5702) that can be used with any type of vehicle lift. The battery-powered single Tech Light shop light features a light wand with a magnetic hook for hanging on the vehicle or lift. An independently controlled spotlight projects out of the top of the wand, which Rotary Lift says gives users a focused beam for up-close inspections. The light wand can operate for up to three hours and the spotlight can shine for up to six on a full charge, providing enough light to complete a variety of jobs, the company says.
Rotary Lift's Tech Lights shop lights are built to withstand daily use in a vehicle repair setting. Since all mounts are magnetic, they offer a universal fit for any lift or piece of equipment in the shop, the company says.
"The most convenient tools are the ones that are close-at-hand and available to help in a variety of situations," says Lainhart. "Rotary Lift's magnetic Tech Lights shop lights are so easy to use that technicians will reach for them with every job."