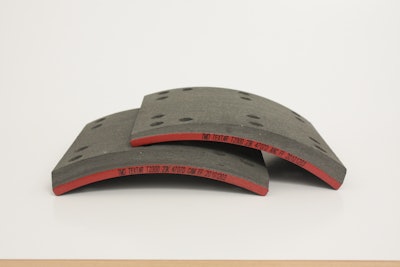 TMD Friction says customers are actively responding to its line of severe-duty friction products.
TMD offers its T0132, T0135 & T2300 for those applications. The T2300 is an OE approved premium grade 23,000 lbs. and rated for all applications. The T0132 and T0135 are an excellent option for improved lining and drum brake wear and elimination of excessive noise issues, the company says.
Nate Moehlig, fleet service garage supervisor, division of public works for the City of Warren, says the TMD linings have been invaluable to his operation.
"We were experiencing high heat damage on a single-axle recycling truck,"he says. "We experienced white hot drums, powdered brake linings, and tire damage.
"We switched to TEXTAR T2300 brake linings with no other changes and not only were the heat issues cured but we extended the service life three fold."
TMD says the friction material works by providing exceptional wear characteristics and stopping power, and are designed for most demanding applications in all environments and driving conditions.TMD also says the linings exceed the FMVSS-121 standards at 23K & 26K axle rating with a 165 & 180 AL Factor.