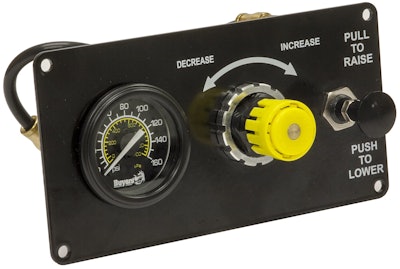 Buyers Products introduces two new lift axle control assemblies for in-cab operation of air suspension and lift axle systems.
Complete lift axle control assemblies are available in push/pull-style or toggle-style. The assemblies are pre-plumbed and assembled with pressure gauge, pressure regulator, fittings, department-of-transportation tubing and mounting plate included, the company says. The included steel mounting plate also is pre-drilled and powder-coated to provide extended service life.
"Buyers is proud to offer a vast line of truck equipment, including the new lift axle control assemblies," says Billy Chapnick, director of marketing at Buyers Products. "These products are constructed from high-quality materials and made to do their jobs well, for a long time."
Along with complete assemblies, Buyers says it also offers individual components including pressure gauges, pressure regulators, toggle air valves and push/pull air valves.