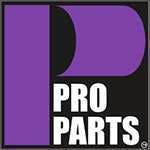 Pro Parts, a light-, medium- and heavy-duty aftermarket parts marketing group, continues to add to the part brands available to its members.
Pro Parts announces it now has a catalog of more than 35 million part numbers that can be ordered and shipped directly to the member location without the added cost of a distribution center.  Pro Parts negotiates aggregate pricing directly with their supplier partners passing on savings to their membership, the company says.
Pro Parts says member dealers have access to virtually any replacement part they require at competitive pricing with the ability to order in quantities that make sense for them.  Lower order quantities with the ability to combine parts from multiple manufactures in one purchase order can reduce inventory by 20 percent with less paperwork, the company says.
ProParts says benefits of a group membership include:
Volume pricing on all replacement part needs
All-makes aftermarket parts
Mix and match small-pallet quantities for lower distribution costs
Ship-through option to have parts drop-shipped to member location
Pro Parts handles order processing and billing reducing paperwork for both suppliers and members
Unique rebate program
Integrated and continuously upgraded technology-based cataloguing solutions
For more information on Pro Parts, check out www.proparts1.com.