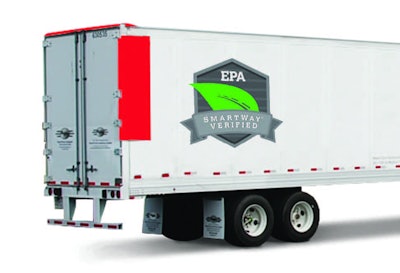 SmartTruck introduces its new TopKit system for dry-van and refrigerated trailers.
SmartTruck says designed the TopKit system to provide a cost-competitive, nearly invisible alternative to side skirts, boat tails and other cumbersome devices that extend far from a trailer's outside edges—all of which can create durability concerns and block access to the trailer for routine inspections and maintenance.
SmartTruck's TopKit system consists of an Aero Rain Guard component that runs along the trailer's top-rear edge and features two side fairing components on the side-rear edges. The new SmartTruck system can go virtually unnoticed at approximately 1 in. thick, while the TopKit also provides a SmartWay-verified 5.5 percent highway fuel savings and weighs only 72 lbs., the company says.
"Over the past few years, trailer aerodynamic systems have required fleets and owner-operators to add products that extend far beyond their trailer's original dimensions, effectively forcing trailer owners to install aerodynamic equipment that can become obstructive and can create unwanted issues," says Steve Ingham, CEO at SmartTruck. "Our challenge with the TopKit system was to design a supremely effective aerodynamic package that would eliminate the previous issues fleets and owner-operators encountered when applying aerodynamics to their equipment."
According to SmartTruck, the TopKit system works equally well for dry vans, refrigerated units and trailers equipped with either swing or roll-up doors. In addition to eradicating the need for obstructions from the underside of the trailer, the TopKit platform does not require driver involvement or have the moving parts found in other aerodynamic systems, the company says.
The design of TopKit also eliminates the increased heating of tires and brakes that can result from the use of underside-based systems, while SmartTruck's top-based aerodynamic solution reduces the opportunity for damage from dock or intermodal operations.
"Through the SmartTruck team's research, design work and our extensive testing, which involved cutting-edge computational engineering simulations, we believe TopKit offers the industry a revolutionary option in aerodynamic design," says Mike Henderson, chief scientist for SmartTruck. "While TopKit broadens our suite of advanced aerodynamic systems, it follows in the SmartTruck tradition and legacy of developing groundbreaking aerodynamic designs which provide maximum fuel savings and durability while remaining protected by staying inside the footprint of the trailer."
"In addition to eliminating the issues related to side skirts, boat tails and other existing aerodynamic systems, the true beauty of SmartTruck's TopKit platform is that it provides fleets and owner-operators a solution with EPA SmartWay-verified performance and CARB compliance at a competitive price," adds Ingham. "We have been very pleased with feedback we have received on TopKit from fleets and owner-operators, and we are committed to the goal of providing the trucking industry with the most innovative and effective aerodynamic solutions that can assist in promoting increased savings and better operational performance."
SmartTruck says the TopKit system is a stand-alone certified solution, but it can also function as a complementary component with other SmartTruck systems. Along with TopKit, SmartTruck continues to offer other SmartWay-verified, CARB-compliant aerodynamic systems that deliver significant fuel savings.