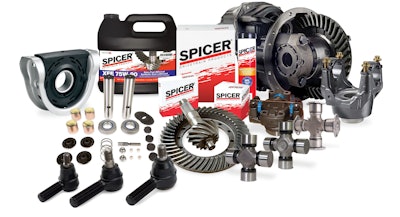 Dana Holding Corporation on Tuesday launched several new service parts that have been specifically designed for powertrains to optimize the benefits of engine downspeeding at Heavy Duty Aftermarket Week (HDAW) 2016 in Las Vegas.
Dana says more than 150 heavy-duty genuine Spicer part numbers have been added for the Spicer AdvanTEK 40 series tandem drive axles and Spicer Life Series SPL 350 driveshafts and universal joints.
"Spicer AdvanTEK axles and SPL 350 driveshafts have become the premier drivetrain offering for vehicle systems that take advantage of engine downspeeding," says Doug Wolma, vice president and general manager, Dana Aftermarket Group. "Our service parts offering provides the same quality and performance features as our OEM (original-equipment manufacturer) parts for new vehicles. This is especially critical when considering the torsional load put on the drivetrain that is created by engine downspeeding."
The new service items include genuine Spicer universal joints, axle carriers, axle housings, axle shafts, yokes, seals, overhaul kits, power dividers, and more, and the company says all have been designed to effectively handle and manage the high torques and stresses on driveshafts, axles, and inter-axle shafts associated with downspeeding.
Dana's Spicer AdvanTEK 40 tandem axles are available in five ratios to support engine downspeeding, including the industry's fastest at 2.26:1. Weighing 21 lbs. less than competitive 40,000-lb. tandem assemblies, the axles also enable increased overall vehicle efficiency of 2 percent and can save more than 2,700 gallons of fuel over five years, reducing carbon-dioxide emissions by more than 60,000 lbs.
Dana says the SPL 350 driveshaft and SPL 250 inter-axle shaft also are designed to withstand the increased stresses that result from downspeeding. The driveshafts are the most robust heavy-duty system in their class with High Power Density design features and extended bearing life, the company says.
As a system, Dana says the AdvanTEK axles and SPL driveshafts are the only combination in the trucking industry that can supply up to a million miles of life expectancy in a powertrain designed for engine downspeeding.