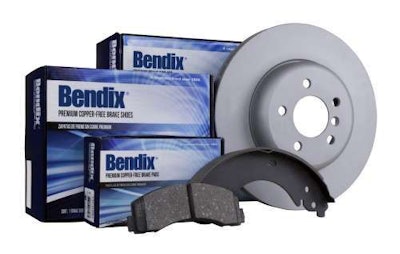 Bendix Brakes is launching a new premium product line, offering brake pads, discs, shoes and complete brake shoe kit coverage for late model vehicles.
Bendix Premium line of friction products features copper-free formulations, putting it at the leading edge of environmentally-conscious brake design, the company says. Copper must be eliminated from all friction formulations by 2025 in order to meet regulations in California and Washington.
Bendix Premium rotors are platform-specific, are sold in pairs within responsible weight limits and feature a premium coating to protect from corrosion.
Bendix Premium complete brake shoe kits are preassembled sets of brake shoes, with all hardware included. Bendix says the brake shoes are constructed with OE grade steel and advanced adhesives for maximum strength and durability.