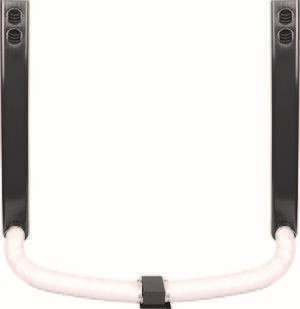 Dometic Group says it is launching the Dometic Air Tower, a new device that helps distribute auxiliary air-conditioning flow more efficiently around the truck cab than with its built-in ducts alone, at the upcoming Mid-America Trucking Show (MATS) in Louisville, Ky.
Dometic says the Air Tower is engineered to maximize air flow from the Dometic Blizzard Turbo auxiliary air conditioning unit to produce quicker cool-down in the cab by directing the cool air exactly where it's wanted. Multiple louvered vents in the tower make it easy to direct the air flow where it's needed. The extendable device gives drivers optimal air distribution and coverage to suit the cab's layout and how the driver lives in it, the company says.
Attendees at the show can stop by one of the Dometic booths (#14252, #40477 and #92140) to see the Air Tower with a working Blizzard Turbo auxiliary air conditioner.
"Staying comfortable and cool on hot days is critical for drivers. With this in mind, Dometic's engineers designed the Air Tower to help drivers target air flow exactly where it is most needed," says Mark Minatel, senior vice president at Dometic. "Our modular Air Tower's components interlock to form the tower, providing fast, easy and simple installation – far less invasive than cutting into the truck's built-in ducting system. The Air Tower improves overall air flow, enhancing driver comfort."
With universal installation for any brand of truck – including Freightliner, International, Kenworth, Peterbilt, Volvo, and others – the Air Tower is attractive and leaves no permanent trace if it is removed later, the company says.
The Air Tower kit is available in two duct sizes, Dometic says. The kit with 4-in. ducts includes two Air Towers, with one tower stacked to reach the upper bunk area. The kit with 5-in. ducts includes one Air Tower with vents for the lower and upper bunk. Both kits include flexible ducting. The Air Tower has an adaptable length that can be cut to fit the cab's exact height; or, make it extra tall by inserting an extender, the company adds.