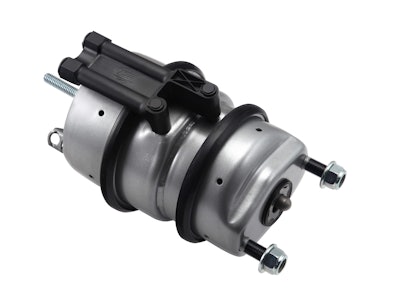 TSE Brakes has introduced its UL-Disc air brake actuators specifically designed for equipment using air disc brakes.
"Due to reduced stopping distance requirements, air disc brakes are growing in popularity for both fleets and owner operators," says Ian Shackleton, TSE Brakes director of North American OEM sales and marketing.
"Fleets are also interested in air disc brakes for their safety performance and their potential for reduced maintenance requirements. To meet this market need, TSE Brakes is providing a premium product, the UL-Disc, that features an industry best warranty of up to 7 years."
TSE says benefits of the UL-Disc actuators include:
Full immersion electro-deposition coating inside and out and an exclusive powder coating finish for the most durable corrosion protection in the industry.
Main spring adds a proprietary UL base coating in addition to TSE's multi-stage coating system for the ultimate in corrosion protection.
Self-guided pressure plate assures consistent alignment of spring providing super smooth operation and less wear. Steel APR plate is e-coated to eliminate corrosion degradation.
Patented bushing assembly provides center seal that traps lubricant for extended service, reducing center section leaks and brake drag.
Premium diaphragms feature high quality contaminant resistant rubber reinforced with nylon fabric tested well beyond the toughest industry specifications.
All steel design provides durable, air tight center section that virtually eliminates leaks, structural failures and prevents galvanic corrosion.