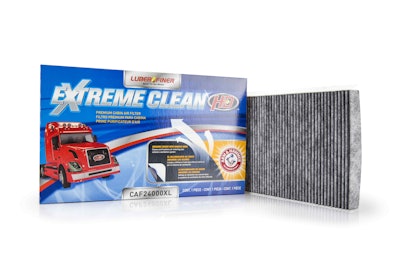 Luber-finer has introduced its Extreme Clean HD Premium Cabin Air Filter.
According to Luber-finer, Extreme Clean filters possess the capability to trap airborne particles ranging in size from 5 to 100 microns. This allows the Extreme Clean to prevent 98 of allergens from entering the passenger cabin of a heavy-duty vehicle. This is a crucial advantage in the spring, Luber-finer says, when many drivers can suffer from allergies that are triggered by airborne pollen.
"Many drivers need to battle through the itchy eyes, stuffy noses and scratchy throats that are the hallmark of the springtime hay-fever season, but they have a best-in-class solution they can turn to in the Extreme Clean HD Premium Cabin Air Filter," says Gary Bilski, chief engineer for FRAM Filtration, Luber-finer's parent company.
"The Extreme Clean Cabin Air Filter has been designed to be a first line of defense in not only keeping allergens out of the cab, but also preventing volatile organic compounds, such as gas or exhaust fumes, and other offensive odors from entering the passenger space."
In addition to featuring a filter media that is fine enough to trap most airborne contaminants, the Extreme Clean Cabin Air Filter also combines Arm & Hammer Baking Soda and carbon in the media. This combination gives the Extreme Clean the ability to do something most competitive models can't – remove nuisance odors before they can reach the cabin, Luber-finer says.
The Extreme Clean Cabin Air Filter has been designed with application coverage for 16 popular truck and heavy-duty equipment manufacturers. Luber-finer says recommended in-service time for the Extreme Clean is 12,000 to 15,000 miles, though the filter may need to be replaced sooner if the vehicle operates constantly in harsh conditions.