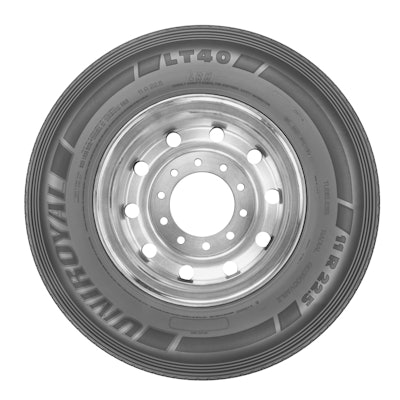 Uniroyal Commercial Truck Tires, a unit of Michelin America Truck Tires, says its Uniroyal LT40, a long-haul/regional, Class 8 trailer tire, has met the requirements for the U.S. Environmental Protection Agency's SmartWay Technology Program.
The LT40 joins two existing Uniroyal SmartWay-verified tire offers, the LS24 and RS20.
Uniroyal says LT40 combats irregular trailer tire wear for long-lasting performance. Available in sizes 11R22.5, 11R24.5, 275/80R22.5 and 275/80R24.5, the tire is designed with StoneBlocker technology to protect the casing.
"Uniroyal products have been recognized by the U.S. EPA for low rolling resistance technology," says Darlene Shepherd, business segment manager, Uniroyal Commercial Truck Tires. "The LT40 gives customers a choice when they select a commercial product that reduces emissions and improves fuel efficiency."
Uniroyal says its other SmartWay tires are the LS24 long-haul steer tire, and the RS20 regional steer/all-position tire.
The Uniroyal tire portfolio for heavy trucks, launched in January 2016, comprises six tread designs with 28 total offers. All Uniroyal tires are retreadable and feature DuraShield Construction, Uniroyal's unique combination of pyramidal steel-belt construction, insulating belt-edge strips and a heavy-gauge inner liner, the company says.