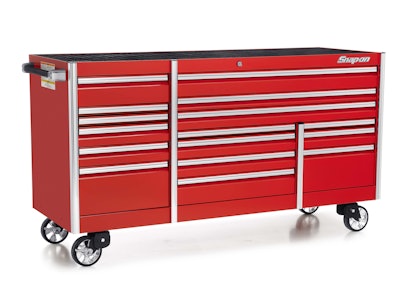 Snap-on has expanded their inventory by adding the KETN843A EPIQ 84-Inch 16-Drawer Roll Cab.
"In addition to our innovative tools, Snap-on is also known for durable tool storage units. Our engineers are continuously coming up with ways to make tool boxes even better for customers by adding exceptional features and benefits," says Scott Amundson, product manager for Snap-on.
"The KETN843A is EPIQ strong and equipped with three extra-wide drawers right at the top of the roll cab to ensure easy access to tools customers use most."
The 16 drawers are versatile in width, depth and height for storing a variety of tools and products, the company says. Customers can also purchase an 84-inch stainless steel or bedliner top with or without power to take the KETN843A to the next level.
The 84-inch tool storage unit offers the traditional features of the Snap-on EPIQ series and is designed with a high load capacity. The 7×2 inch swivel-lock mag wheels have patented ISO-Ride technology built in, withstanding one ton each.
"The KETN843A is designed with a combination of our traditional corner gussets and standing seam construction with additional support on the top, bottom and sides making it one of the strongest roll cab designs from Snap-on," says Amundson.
"This EPIQ is made to work with and for our customers. It's a great addition to an existing storage unit or it can serve as an upgrade for growing tool needs. Either way, the KETN843A is one heck of a tool box."