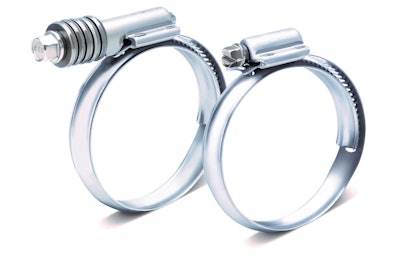 Norma Group has launched production of the new Breeze Super-Seal clamp for fluid connections in high-pressure applications using rubber or silicone hoses. Designed to meet OEM and aftermarket applications, the clamp features a high-pressure dual-seal profile and provides a wide range of adjustability due to its worm-drive closure mechanism, the company says.
According to the company, the two high-pressure beads of seal around the periphery of the clamp band focus the load into a very small area and create a higher radial pressure – with the same amount of torque. This profile acts to prevent leaks and secure the hose under harsh operating conditions. The Breeze Super-Seal clamp has been designed with recessed hardware attachments to better maintain 360-degree lines of sealing, the company says.
"The Breeze Super-Seal clamp is our latest breakthrough in clamping technology and is available for the OEM and aftermarket," says Tim Jones, president of Norma Americas. "We are preparing to ship Super-Seal to several heavy equipment customers and expect to be specified on additional car and truck OEM programs. Super-Seal will be a great alternative for repairs as well, especially in applications with limited space."
Norma Group says the Super-Seal's unique convex-shaped band provides high spring force resulting in consistent clamp load during joint contraction and expansion. The new clamp, offered with or without Belleville washers, can be used on rubber or silicone hoses in diameters from 36 mm to 118 mm. The Super-Seal HD with Belleville washers can be used on hoses with a higher compression set to maintain adequate clamp load as the joint diameter contracts, the company says. Super-Seal HD offers clamping pressures up to 50 percent higher than that of other clamps.