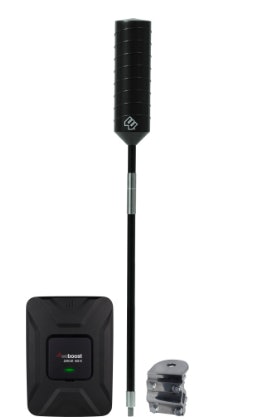 weBoost has introduced the new Drive 4G-X OTR, an all-in-one signal booster kit for truck drivers.
The Drive 4G-X OTR is weBoost's most powerful mobile booster, enabling up to 32 times stronger signal on the road so drivers with lengthy travels can stay conveniently connected to those they love and on whom rely, the company says.
"In our increasingly connected world, bringing a reliable cell signal to everyone, from within city-centers to the open road, is important to us," said Bruce Lancaster, Wilson Electronics' CEO. "Truck drivers make many sacrifices on long-haul journeys, especially spending countless hours on the road away from their homes and loved ones. As a matter of safety as well as maintaining those relationships, staying connected should not be one of those sacrifices."
The Drive 4G-X OTR is carrier agnostic and will successfully amplify signals for Verizon, T-Mobile, Sprint and AT&T users alike. It simultaneously amplifies voice and data for devices operating on 3G, 4G LTE or legacy bands. Neither a wired Internet connection nor Wi-Fi are needed for the booster to function, and there are no monthly fees, the company says. The Drive 4G-X OTR also amplifies existing cell signal from the nearest cell tower to bring extremely capable coverage to truckers anywhere on the road.
Installation is a six-step process and the kit includes the all-new 4G-OTR antenna and mount, the Drive 4G-X signal booster, a slim low profile, secondary antenna, a mounting bracket and a 12V DC power supply, weBoost says.
The 24-in. 4G-OTR antenna achieves a high gain signal output that surpasses other antennas of its size. Its compactness provides a low visual impact for drivers, yet it is designed to resist shock and wear in heavy-duty applications and rough conditions. weBoost says it is also available in a shock spring mount and additional mast heights to accommodate a variety of drives. The antenna covers cell phone frequencies from 700, 800, 1700 and 1900 to 2200 MHz.