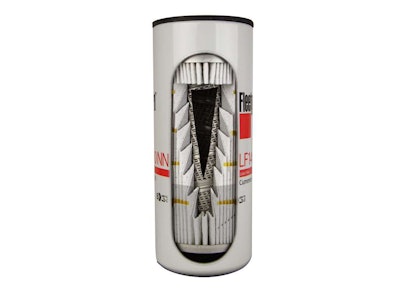 Cummins Filtration has further refined its Fleetguard LF14000NN combination lube filter for the arrival of newer engine platforms including Cummins X15 engines, introduced last month.
According to Cummins, the new Fleetguard LF14000NN uses a state-of-the-art co-bonding lamination process that pairs NanoNet and StrataPore media together to create a single filter element.
"This breakthrough manufacturing technology maximizes the media area within the filter for optimum capacity and service life," says Roma Fatima, lube product line manager at Cummins Filtration. "This eliminates the need for separate media sections without losing the combination performance of the different media grades."
The new Fleetguard LF14000NN further reduces flow restriction, allowing the latest generation of diesel engines to operate more efficiently with less parasitic power loss, which can lead to better fuel economy and lower CO2 emissions. Depending on the quality of oil used, Cummins says the LF14000NN is capable of longer service intervals which help fleets lower their operating costs on replacement filters over the course of an engine's life. The NanoNet media structure is engineered to deliver a balance of efficiency, capacity, and restriction for optimal engine performance and protection, the company says.
Earlier this year, the American Filtration & Separation Society (AFS) presented Cummins Filtration with its 2015 New Product of the Year Award for the Fleetguard LF14000NN at its conference in Houston.
"Many of the characteristics that make NanoNet media so successful in fuel filter applications translate well to lube filters," says Brad Long, senior engineering technical advisor, Cummins Filtration. "By pairing NanoNet with our proven StrataPore synthetic media, we can offer a lube filter that's suited to meet the needs of today's advanced engine platforms and lubricants as well as those coming in the near future."